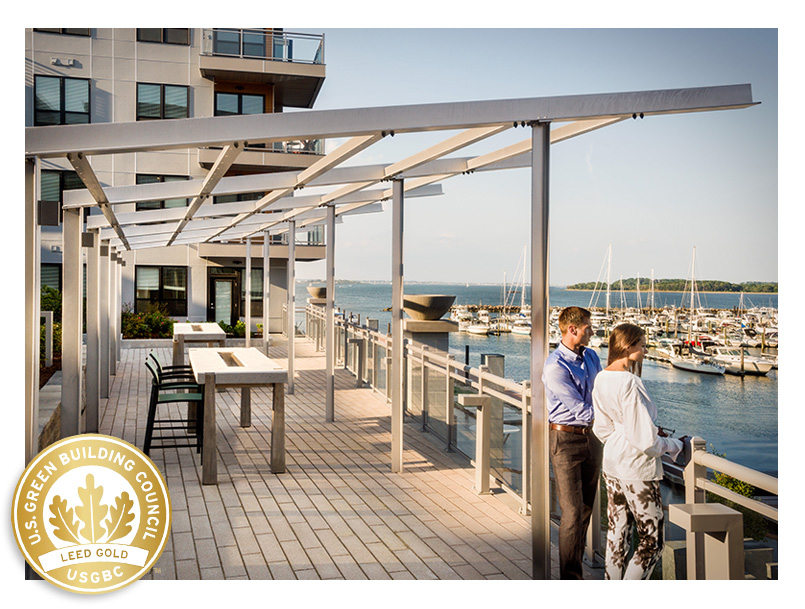 24 Jul

Meriel Marina Bay Achieves LEED Gold Certification

Meriel Marina Bay has recently been awarded LEED Gold Certification!

This multifamily residential project is located on the waterfront overlooking the marina with views across Dorchester Bay to downtown Boston. The 352 residential units are split into two adjacent buildings to activate both sides of Victory Road. Amenities include fitness, yoga, swimming pool, indoor/outdoor dining areas and four elevated courtyards to enjoy the panoramic views. In addition to residential units, the project also consists of 17,000 SF marina front retail. The existing boardwalk was extended to provide connectivity from the rest of Marina Bay to the new retail spaces.

The project achieved 62 total LEED points, including all four regional priority credits for Brownfield Redevelopment, Stormwater Design – Quantity Control, Heat Island Effect – Non Roof, and Heat Island Effect – Roof. We are pleased to add yet another LEED project to our list of sustainable design achievements. Our team strives to work closely with our clients to maximize green building opportunities with building life cycle costs in mind.

To learn more about Meriel Marina Bay, click here.