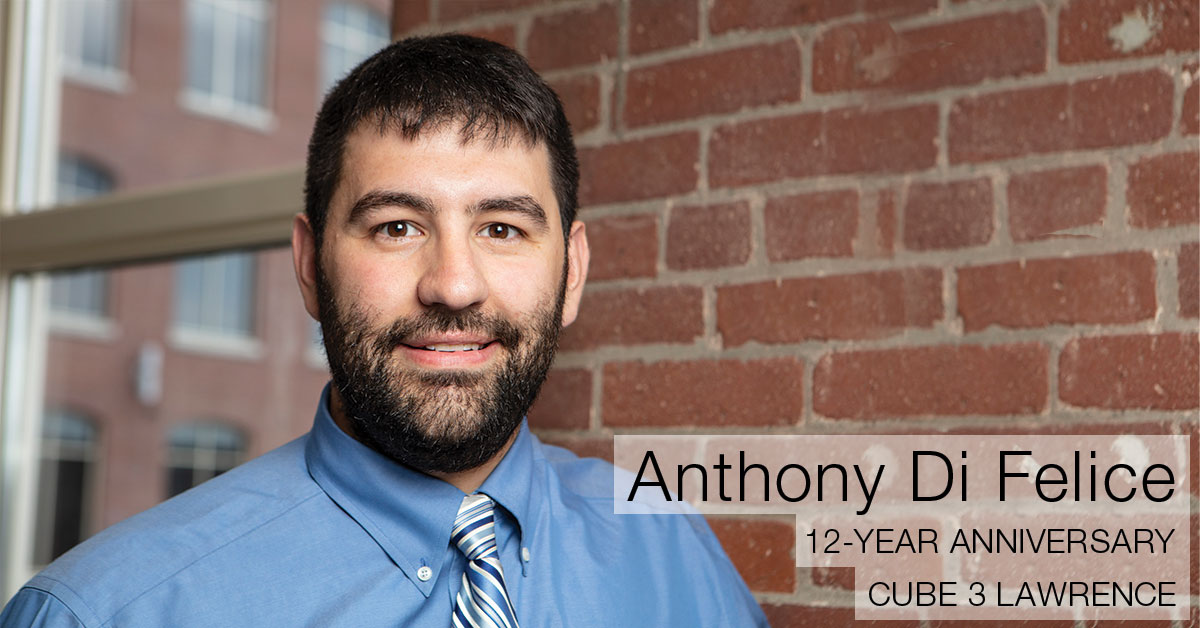 21 Jan

Anthony Di Felice: Celebrates 12 Years with CUBE 3

It's been 12 productive years since Anthony Di Felice started his career at CUBE 3 as an intern. Since then he graduated from WIT, joined CUBE 3 full time as a Project Coordinator, and earn a well-deserved promotion to his current role of Senior Project Manager. Anthony, an accomplished architect and father of two with his lovely wife Colleen, has grown to be an integral part of our team and company culture.

Thank you, Anthony, for your commitment to CUBE 3 and the work you do for us, and our clients, every day.

We asked Anthony about his tenure at CUBE 3, and here's what he had to say:

What are you currently working on at CUBE 3?
Currently, I'm heavily involved in The Metropolitan at Reading Station – New Meadow Development, The Mark – The Davis Companies, Hanover Mystic River – The Hanover Company, and Arbella at Ashland – The United Group.

What contribution are you most proud of?
Knowing the projects that I have been a part are playing a vital role in other people's everyday lives without even knowing them. From healthcare to office and residential, people have a place to heal and get better, have a job with the ability to build a career and a safe place to live. There is a sense of accomplishment knowing I have contributed to making other people's lives better in a variety of ways.

Additionally, mentoring and developing team members I am overseeing on projects is something I take pride in. I have always had a strong support team throughout my career at CUBE 3, and I want to continue to share that even more with others.