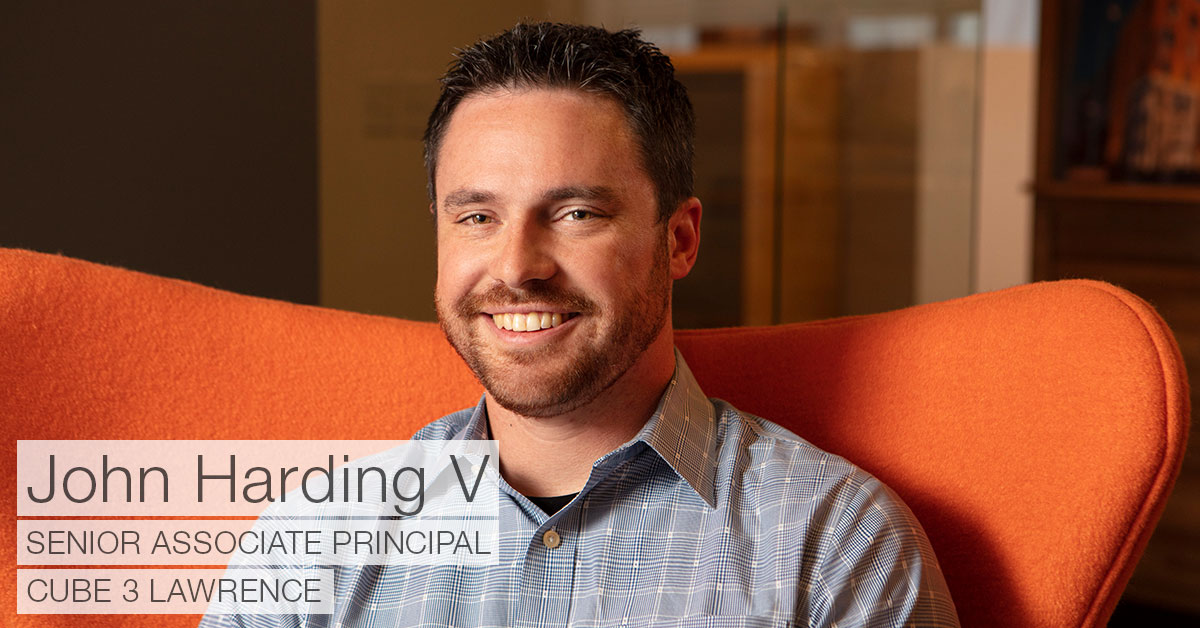 02 Jun

John Harding 15 Year Anniversary
Congratulations John on reaching your
15-year anniversary with CUBE 3!
C3 has grown and evolved substantially over the last 18 years, and we are fortunate to have some of our first employees still a part of our team defining who we are, our culture, and being an integral part of shaping our next chapters. John sat down with me to take a brief trip down memory lane and reminisce about the last 15 years.
Qualifications/Accreditations:
Member of the AIA and BSA.  Licensed in 27 States throughout the US.  Also a LEED AP.
What attracted you to join the CUBE 3 team?
I owe a lot to Brian Cussen for the decision to join CUBE 3. He had known Nik for a while (he used to cut his grass) and was doing some side work for him while we were in school as Nik started CUBE 3. Brian had been hired while we were finishing our thesis and one night Nik came down to Roger Williams University to give Brian a crit on his project. Brian told me that they were hiring, the office was in Lawrence (just 25 minutes from where I grew up) and he introduced me to Nik. We had a good conversation and then we all went out to dinner in Bristol. I never really even interviewed and I've never put together a resume. It was all informal and I just happened to be at Brian's house one day when Nik called him, he put me on the phone and Nik offered me a job and I took it. I don't think we even talked numbers, just opportunity.  I've never looked back and never regretted that decision.
How long have you been at CUBE 3?
My entire career. I know it's rare in the industry, but not really here…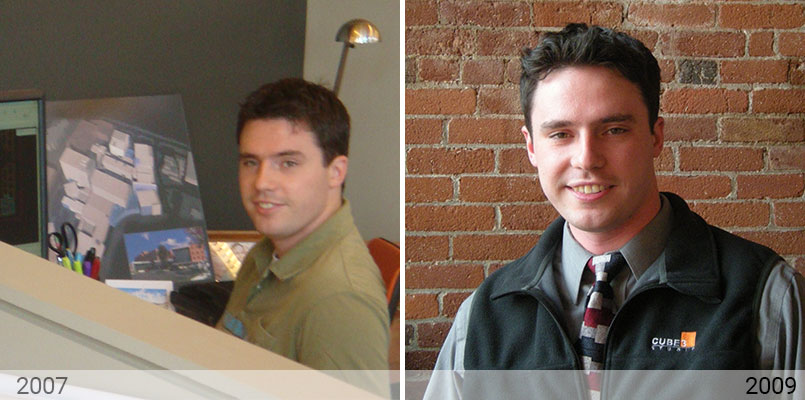 What inspires you?
5 years ago I got involved with the Pan-Mass Challenge (PMC) and it's been a life changing experience. I've been able to raise about $32,500 in the first 4 years and this year I'm hoping to finally crack the $10,000 mark. It's a selfless, emotional, and exhausting experience (192 miles cycled in 2 days) and the impact is amazing. It has inspired me to do more to help people. You can donate to my page here if you're interested! http://profile.pmc.org/JH0494
What's a lesson you have learned that has most benefited you in your career?
About 10 years ago, I learned what happens when you forget to thank and appreciate the people working around and with you and the negative impacts that can have. It's something I have worked really hard to never repeat (being a jerk to work with), and I've let that moment define my career to be focused on the people I work with and helping them grow and achieve their goals. It's been very rewarding personally.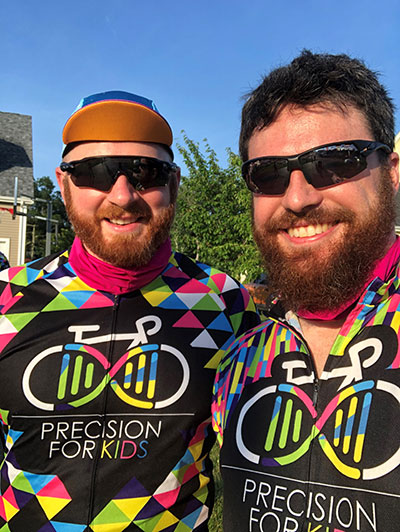 How did you get here? What were you doing before, and what made you decide to become an architect/interior designer?
Before the crazy circumstances that led to my hire, I loved building furniture in high school. Working with my hands to create something was just so exciting and fulfilling. At some point, I decided to take that to a grander scale and become an Architect. I even took a course in HS where I helped build a house so that I had real world experience going into design school. I may not be the best designer, but I love the role I play in making it all happen and couldn't imagine doing anything else.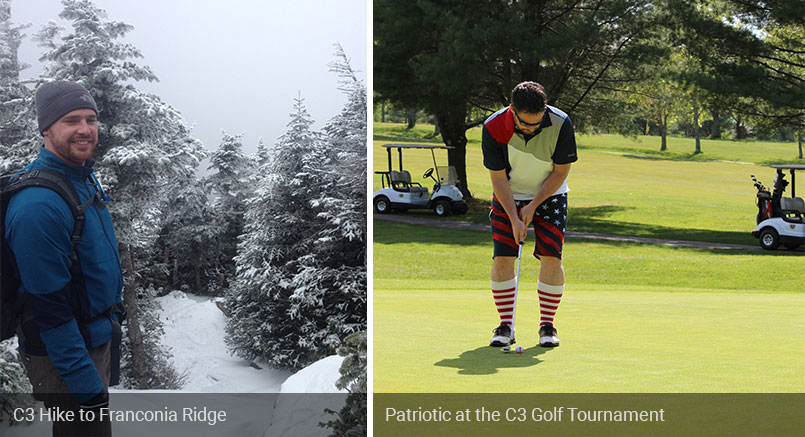 What was your first project?
Most people might tell you it was the Village at Taylor Pond, which was my first major project that I felt true ownership over, but my ACTUAL first project on my first day at CUBE 3 was the Elliot Hospital One Day Surgery suite. Its where I learned what an RCP was.  Such an amateur back then…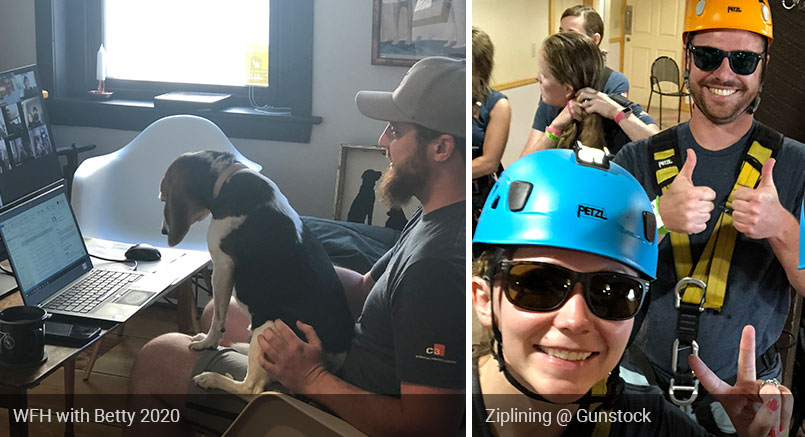 What is something you are most proud of?
The people I have worked with over the years and helping to groom them into some of the best professionals that I know.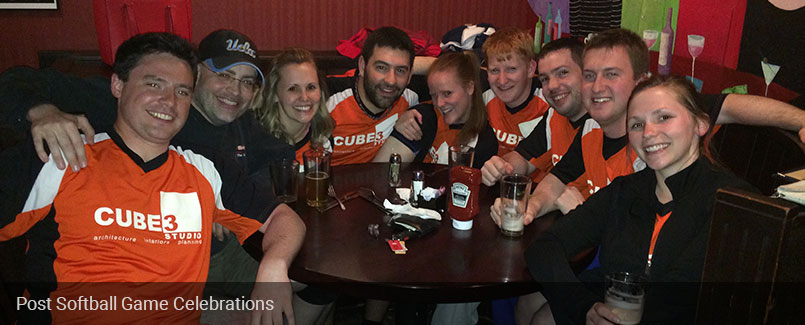 Can you tell us a little about your home restoration project in Newburyport?
Last year I bought a house originally built in 1804 that needed a lot of work. It's been one of the best things to come out of COVID for me and has been (and will be forever) a great experience of uncovering its history and helping give it a bright future. We've completely replaced the one full bath, added a second full bath, replaced the entire heating/cooling system, refinished all of the wide plank pine floors, added solar to the roof, and completely overhauled the kitchen to create what I will say is my favorite room in the house. There are like 40 active projects going on with new ones started weekly.  One day I'll finish them all (so not true).