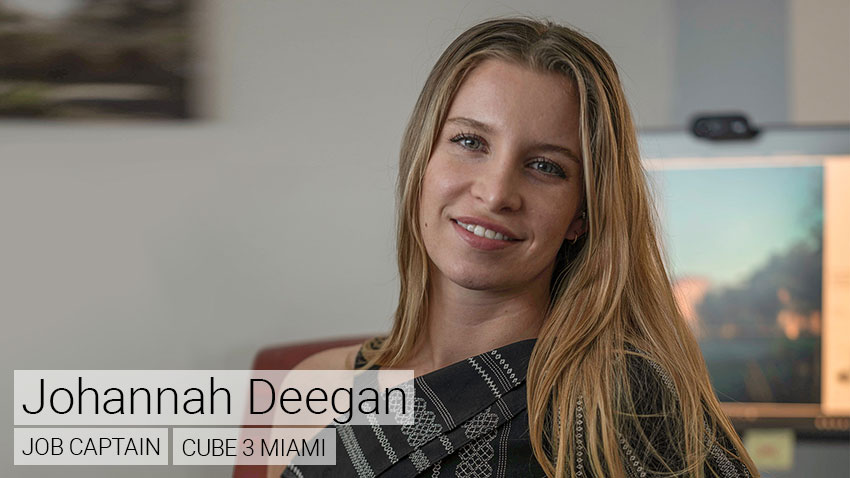 04 Mar

Women's History Month Profile: Johannah (JD) Deegan

This year, to celebrate Women's History Month, we wanted to take a look at the "history" of some of our employees so we could all learn more about what inspired them and brought them to where they are in their careers today. We invite you to learn more about Johannah Deegan, an architect in our Miami office.

What made you decide to become an Architect?
When I was a kindergartener, my aunt (Interior Designer) drew up a set for her own house and I wanted to do the same. I want to "build my own house." It's a primal human endeavor that has evolved into an artistic expression. I've respected this industry since I learned to hold a pencil.

How did you get your start in this field?
I went to school in New York City and started working with one of my professors at his experimental, tech-focused firm (think Philip Beesley "Towards a Living Architecture"). My first traditional experience was at a boutique luxury firm based in Chelsea. We renovated landmark historic brownstones and designed contemporary Scandinavian-inspired houses in the Hudson Valley.

How did you get here? What were you doing before CUBE 3?
Right before C3 I was working in a firm at the Woolworth Building that provides quality community and residential space for vulnerable populations: individuals transitioning out of prison, women coming out of domestic abuse, recovering addicts, etc. When the pandemic hit, I left New York and I was familiar with CUBE 3 from a Boston Redevelopment Authority internship I had in 2016 (C3 was all over the Urban Planning Dept. with projects!), so I decided to shoot my shot for the Miami C3 office. I wanted to be a part of building Miami; I love it here.

What's a lesson you have learned that has most benefitted you in your career?
Unfortunately, I learn almost everything the hard way. "The doing is the knowing."

What inspires you?
I'm inspired by the idea that architecture can change something socially or politically; that it might be able to do more than provide a shield from the elements. I also enjoy the thought that it outlasts us.

What is something you are most proud of in your career?
I'm proud of my resiliency. People who do this job are inherently resilient; we have 9 lives and land on our feet.

What do you hope to accomplish in the future? Near or far.
You already know, I need to realize my Batman-esque, self-sustaining, apocalypse-proof house.