17 Nov

Campus Apartments and CUBE 3 Collaborate on Largest Project in Shippensburg University History

School Construction News
November 17, 2011

http://www.schoolconstructionnews.com/articles/2011/11/17/campus-apartments-and-cube-3-collaborate-on-largest-project-in-shippensburg-univ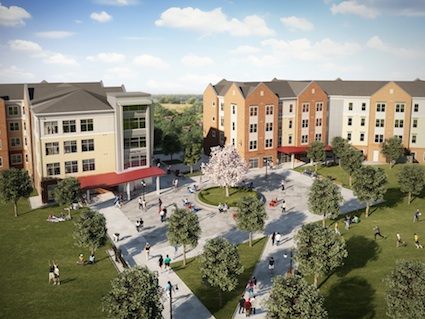 SHIPPENSBURG, Pa. — Shippensburg University will break ground on the first of its three-phase, on-campus housing project — the largest project in the university's history.
The first phase of the project — a three-building, 306,436-square-foot, $70 million complex — will accommodate 924 students and includes a wellness center. Two buildings will be located on the north side of campus, including the wellness center, and one building will be on the south side of campus.
The first phase is expected to be completed by January 2013.
Phases two and three are still in the planning stages but will consist of on-campus student housing and will replace existing facilities at the university.
Campus Apartments, one of the largest student housing developers in the nation, is overseeing the project, with Lawrence, Mass.-based CUBE 3 Studio as the design firm , general contractor Fortune-Johnson Inc., with offices in Reston, Va. and Norcross, Ga., and consulting engineer Babylon, N.Y.-based Greenman-Pedersen Inc.
The project is under the direction of Shippensburg University Student Services Inc., an independent non-profit that represents the students but will be operated by the university.
Campus Apartments also took security into account while developing the units and worked with the school to adhere to its standards and safety concerns.
"Security concerns are paramount in any living situation and we are working with the university to build up to its high standards," said Daniel Bernstein, executive vice president and chief investment officer at Campus Apartments.
The new housing facilities feature two different floor plans, multipurpose programming areas, study lounges and a 13,000-square-foot wellness center located in a north-side building.
The total projected cost of the three-phase project is
estimated at $200 million. This project is the largest in the university's history and is slated for completion in the summer of 2015.
"The start of the construction on this project is a milestone in the university's plan to provide top-quality housing to its students," said Bill Ruud, president of the university.