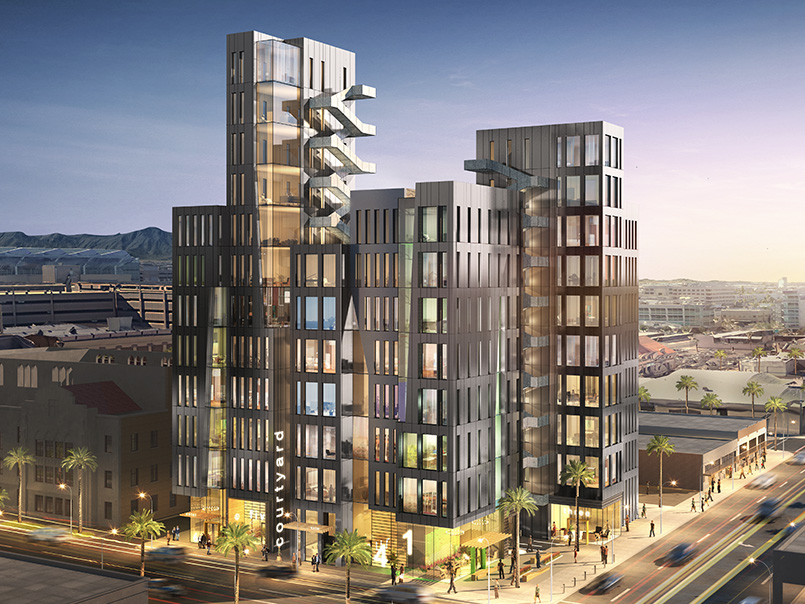 05 Apr

AIA Phoenix Metro Design Competition 2017

CUBE 3 was a winner of the AIA Phoenix Metro Design Competition 2017. The Infill Phoenix design competition asked entrants to propose an innovative program and design a structure that has a connection with the existing urban fabric of Phoenix. Entrants were expected to incorporate creative approaches for the finished proposal and to incorporate aspects to forge a unique vision for Phoenix's future. Read our submission below:
To survive, a cactus must carefully touch the environment by folding it cylindrical form into a skin made up of smaller vertical ribs. This allows for increased surface area for photosynthesis and the ability to channel water directly down the stem to the ground, supporting life in a less than nurturing environment. The delicate relationship between object and context is observed throughout environments which lack catalysts for growth. It especially finds relevance along the periphery of Phoenix's Downtown Business Center, where small vacant parcels litter the area. Streets and avenues carve the parcels into an interconnected fabric, and underutilized land creates holes that hinder vitality and reduce street activity. What if we could activate growth by increasing the permeability and porosity of the street wall, taking a small vacant parcel and creating a collection of even smaller programmable spaces? By subdividing a vacant site into smaller elements and providing shared circulation at the ground level, many different entry points can service multiple independent businesses. This would be unlike typical work sharing and start up environments, as we want each business to feel rooted in Phoenix with their own front door; their own building; their own identity. To support a variety of small footprints on an already small site, a shared infrastructure can service the independent vertical stacks, nurturing the evolution of an ingrained business community.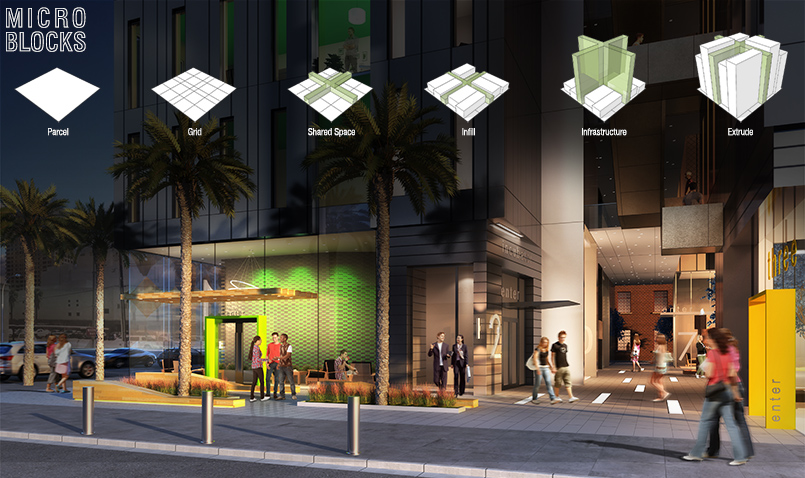 The site chosen for the first Micro Block is an open parking lot located at 259 North 3rd Avenue and measuring approximately 22,100 SF (one-half acre). It is positioned within an underdeveloped area that borders Downtown Phoenix, the Government District, and Roosevelt. This area is littered with open gaps in the urban fabric and appears isolated from the vibrant districts along its edges, which is representative of so many other similar places just outside Phoenix's urban core. We wanted to develop a fundamental strategy that re-envisions this area as an abundant opportunity for growth, and if successful, could be easily replicated in other areas.

Easy access to North 7th Avenue and 3rd Avenue, which connect with major routes such as Interstate 10, Phoenix-Wickenburg Highway, and local feeders such as W Van Buren Street, W Washington Street, and W Jefferson Street allow this project ideal connectivity to the rest of the city. The Van Buren Street & 1st Ave bus stop and Light Rail Stations are within 0.25 miles of the site, leading to a high walkability score. All future Micro Blocks must meet this standard of connectivity.

Densely-packed vertical workplaces for fast growing businesses are proposed to occupy this small parcel of land. Each workplace tower is grounded by a front door that connects directly to the street. The towers share a common circulation core that wraps around a protected outdoor urban courtyard at the heart of the Micro Block.
Learn more: AIA Phoenix Metro