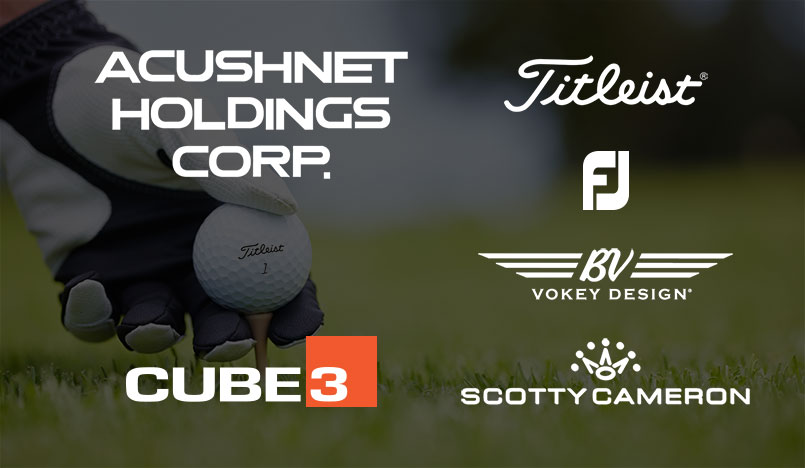 19 Aug

Acushnet Holdings Corp Global Headquarters

CUBE 3 is pleased to announce that is has been named to redesign the global headquarters of Acushnet Holdings Corp. in Fairhaven, MA.

Acushnet Holdings Corp., the global leader in the design, development, manufacture and distribution of performance-driven golf products including Titleist and Footjoy, tapped CUBE 3 to develop and redesign their global headquarters, which houses all of their executive departments and serves as the research and development center for these and other brands under their corporate umbrella.

The 165,000 GSF exterior and interior renovations will serve as a full repositioning of the facility, bringing this heritage company—founded in 1910—decidedly into the 21st century. Updates will include striking new entrances and an exterior identity that will reflect the drive and commitment of the team who are hard at work in the interior. We look forward to designing a decidedly modern atrium and sleek, functional collaboration spaces, and an entirely new office environment including thoughtful expansions of all café and dining options and their Wellness Center, which will include a 24-hour gym facility.

Acushnet's Research & Development Center will become the centerpiece of the renovation, updated with the finest finishes to accommodate both investors and VIP guests, including top golf athletes who often visit the facility. Finally, we are excited to announce the addition of new, state-of-the-art golf simulator spaces for employees, guests and athletes to enjoy.

CUBE 3 Senior & Founding Partner/CEO Nik Middleton affirms that this project will be a cornerstone of the firm's Corporate/Commercial portfolio. "When a global leader like Acushnet Holding Corp. invites you to take a seat at the table, creativity flows. We accomplished our goals of showing their stakeholders our design acumen and communicating our commitment to what will truly be a team project. They are passionate about their employees and bringing leading edge golf equipment to the market, and CUBE 3 is passionate about being the catalyst that will redefine and elevate their workspace.

"We have been working on our repositioning planning for some time now, and are pleased that CUBE 3 is now part of our team. Their passion, insight and team-centric attitude are only a few of the many reasons we chose to work with them. We have a lot of work to get done, and having CUBE 3 as part of our team insures us it will be a huge success." Brendan Reidy – Chief Human Resource Officer – Acushnet Holding Corp.