13 Feb

St. Elizabeth's Medical Center Tops-Off Connell Pavilion Three-Story Addition

Steward Health Care System| http://www.steward.org
January 28, 2013

http://steward.org/news/St-Elizabeths/St-Elizabeths-Medical-Center-Tops-Off-Connell-Pavilion-Three-Story-Addition-Opens-Renovated-Hematology-Oncology-Outpatient-Center

St. Elizabeth's Medical Center, a member of Steward Health Care and a teaching affiliate of Tufts University School of Medicine, recently hosted a "topping off" ceremony to mark the completion of the steel exterior build-out of the three-floor addition of the Connell Pavilion.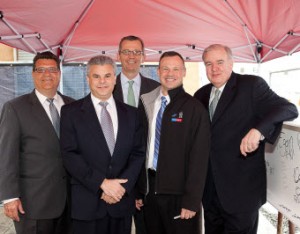 The Connell Pavilion, which sits on the corners of Cambridge and Washington streets, currently houses the St. Elizabeth's Emergency Room and Radiation Oncology Center. The new construction, which is adding three floors to the already-three story building, will be home to Boston's most state-of-the-art intensive care unit (ICU). The new ICU will feature 23 private rooms to better care for our most critically-ill patients
The topping off follows the opening of St. Elizabeth's recently renovated Hematology Oncology Outpatient Center developed in affiliation with Dana-Farber Community Cancer Care.
The new Hematology Oncology Outpatient Center is located in its original home at St. Elizabeth's on Cushing Pavilion 5. The Center has undergone a $7.4 million renovation and refurbishment with support from Steward Health Care. The renovations of the 11,800-square-foot unit include both cosmetic upgrades and changes designed to better facilitate care of our patients. The unit is filled with natural light, has ample semi-private and private treatment spaces and overall provides an exceptional experience for our patients.
"St. Elizabeth's is committed improving each patient's experience and the environment of care in which our world-class physicians work," said Nathan Howell, St. Elizabeth's chief operating officer. "Advancements in medical care, and our ongoing focus on ensuring a calm and restful stay for all of our patients, are driving forces behind continual investments in our campus. Patients are already positively responding to the new Hematology Oncology Outpatient Center and the new ICUs will give our clinicians a physical place that matches the advanced life-saving care we already provide."
These two projects join additional patient care investments at St. Elizabeth's including:
Patient Room Renovations
Designed to improve the experience of patients recovering from illness and surgery at St. Elizabeth's, patient room upgrades are occurring on medical and surgical inpatient floors, Seton 7 East and 6 West and Medeiros 6 and 7. The Patient Room Renovations project is intended to substantially enhance patient care experiences. The upgrades include:
Repairs and upgrades to walls and ceilings
Updated window treatments
Repairs and upgrades to patient room showers
New lighting and fixtures
New flat screen televisions
New, energy efficient windows (Medeiros 6 and 7)
Hallway and nursing station upgrades (Medeiros 6 and 7)
Medical Office Buildings
Cosmetic upgrades to the lobbies and hallways at 11 Nevins Street (St. Elizabeth's Medical Office Building) and 280 Washington are scheduled to begin in Q1 of 2013. In addition, renovations are underway to combine two office suites at 280 Washington Street for Dr. Eugene Vaninov's primary care and cardiology practice.
External Signage
St. Elizabeth's is adding to its external signage to help patients in wayfinding regardless of what direction and road they are coming to the hospital from.
Recently completed projects include:
Renovations and repairs to the Seton Chapel
Build-out of a new Peripheral Vascular Lab to allow advanced vascular procedures
For more information about St. Elizabeth's projects, please contact the Marketing and Communications office at 617-779-6098.
About St. Elizabeth's Medical Center
St. Elizabeth's Medical Center is a major academic medical center affiliated with Tufts University School of Medicine. Areas of medical excellence include cardiology, neurosciences, general and robotic surgery, bariatric surgery, women's health, high-risk obstetrics, bone and joint health, hematology/oncology, pulmonary medicine and emergency medicine. St. Elizabeth's is a member of Steward Health Care, which is the second largest health care system in New England. Visit St. Elizabeth's online at Steward.org/St-Elizabeths.