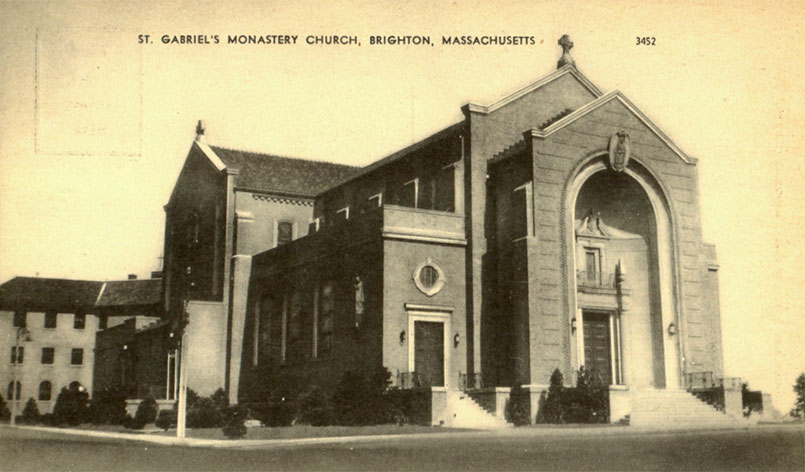 28 May

Preservation Month: The Overlook at St. Gabriel's

St. Gabriel's Monastery, a Boston Landmarks Building, is surrounded by historic structures and landscape features. In 2016, Cabot, Cabot, and Forbes proposed redevelopment of the site, collaborating with the Boston Preservation Alliance and the Brighton community to purposefully preserve the historic features of the site while creating new housing opportunities for the neighborhood.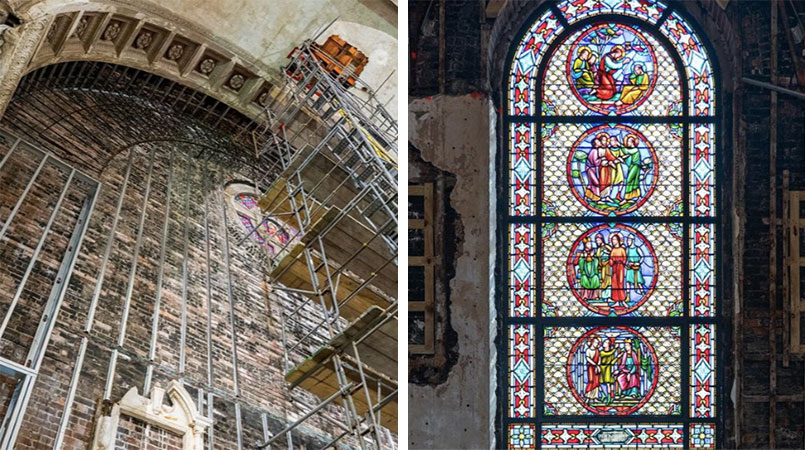 Photos: The Overlook at St. Gabriel's
Our teams are focused on the 11.6-acre site in Brighton, MA which is in the process of being carefully transformed into multifamily apartments and condos. At the heart of the site, St. Gabriel's Monastery was built in the Mission style in 1909 and the historical architecture team at BH+A is taking great care to meticulously restore and reuse the historic monastery and the adjacent church.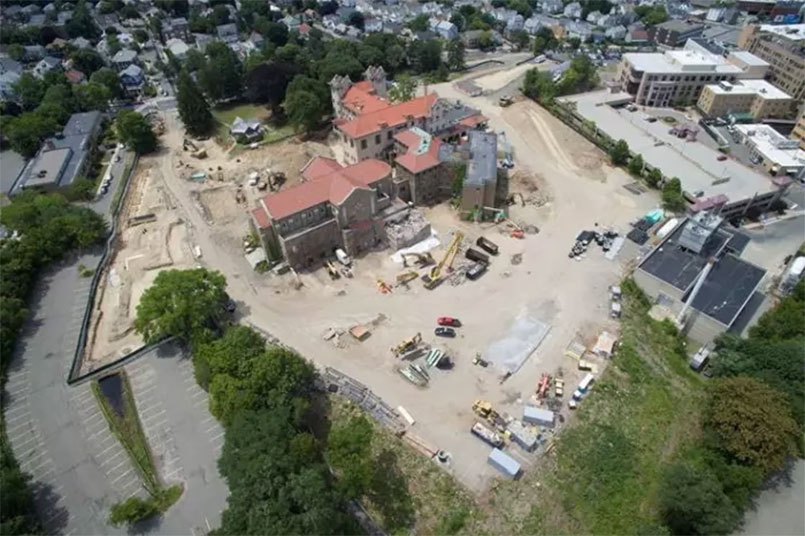 The pedestrian, bike and transit-friendly project site is located next to St. Elizabeth's Hospital, approximately 1,500 feet from the Washington Street stop of the MBTA Green line, and steps from Brighton Center. The project also plans robust shuttle bus connections to nearby universities and research areas.
Photos: The Overlook at St. Gabriel's
The Overlook at St. Gabriel's will consist of four new residential buildings, ranging from four to seven stories and will be surrounded by 3 acres of Olmstead Brothers landscaping, which will serve as a buffer between the buildings, nearby residential buildings, and the Monastery Path. The entire project, which will create 555 privately owned and operated residential apartment units and 111 of condominiums units, and 515 parking spaces, totaling over 590,000 square feet is projected to be completed in late 2022.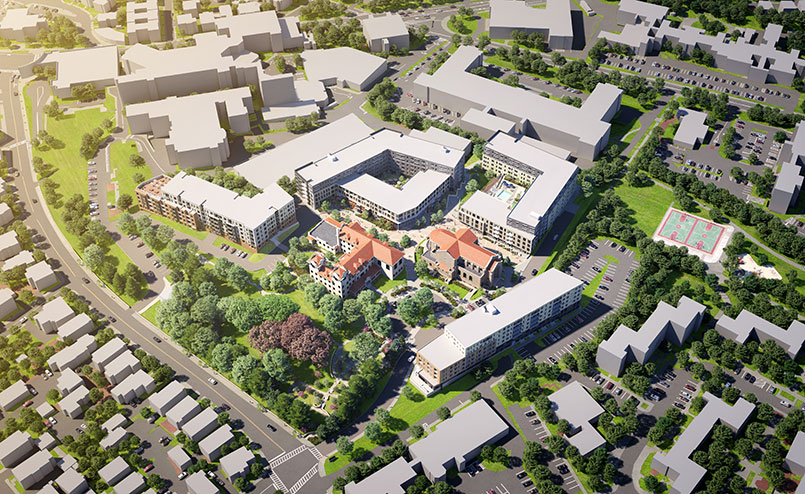 Aerial plan courtesy of Cabot, Cabot & Forbes
Residents will be spoiled with amenities that could include an 8,000 square foot fitness center, indoor basketball court, common lounges, kitchens, games room, café, outdoor pool and outdoor grills.
A special thanks for developers, Cabot, Cabot & Forbes and Peak Campus, as well as all of the members of our C3 team who have worked so hard to respect and maintain the historical nature of this important project.
CUBE 3 Team Members:
Architecture Team:
Eric Samuelson
Michele Quinn
Megan Rajner
Sam Loso
Katarina Wabrek
John Harding
Brian O'Connor
Many others at CUBE 3 have contributed to the project as well.
Interior Design Team:
Lyla Warner
Jen Reyes
Danielle Meri
Angela Juliano