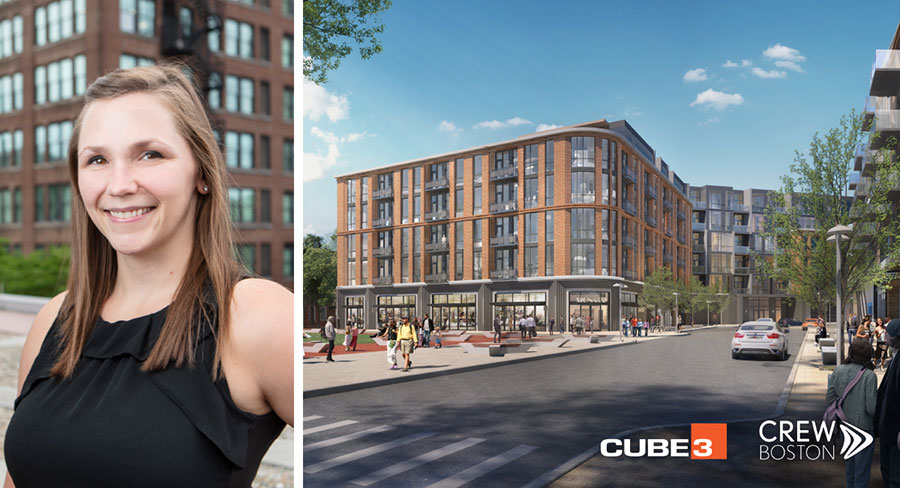 22 Oct

CREW Boston: Discovering a 21st Century Green Neighborhood in a Newton Gateway
My focus was on the design evolution of the project – and as the primary Master Planner for the project CUBE3 has had a constant voice in defining strategies that will allow the public realm and the active street spaces to be the baseline for the development of the project; along with 800 above-and-beyond residential apartments.

As architects, we tend to focus on buildings – but as a project NND is about so much more than the individual buildings. (100% at the risk of sounding too cheesy) NND is really about the development of a new, great, comfortable, memorable place. We started 8 years ago with a primary objective of the revitalization of the Saco Pettee Mill building, and we've followed that thread through the entire development by creating a place that is authentic in its capacity to remain timeless.

The project has always been rooted in sustainability with LEED for Neighborhood Development as a baseline. When we started, Passive House was not being done in the North East – but in the last four or five years it has taken hold as a competitive strategy in multifamily. Seeing the development transition from "just" Sustainable to Passive House nearly seamlessly is a lesson to us all that it's not necessarily about doing or spending more – but it's about designing smarter, building better and spending more wisely. We will be purchasing top of the line triple-pane windows, but we will be spending much less on mechanical systems, building an envelope that is 5-10 more times airtight than code requires, and as a result saving on utility costs indefinitely.

As a developer that maintains their projects – Northland is keenly aware of the benefits of a more durable, more resilient property. Passive House design strategies add to the dimensionality of timelessness that this project will embody.
Visit CREW Boston website
Northland Newton Development website