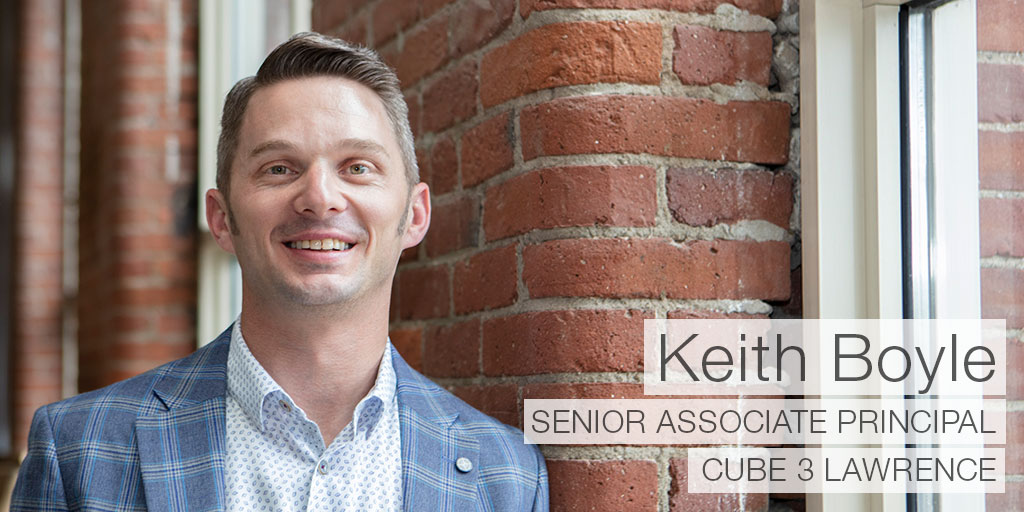 17 Sep

Keith Boyle 15 Year Anniversary
Congratulations Keith on reaching your
15-year anniversary with CUBE 3!
C3 has grown and evolved substantially over the last 18 years, and we are fortunate to have some of our first employees still a part of our team defining who we are, our culture, and being an integral part of shaping our next chapters. Keith sat down with me to take a brief trip down memory lane and reminisce about the last 15 years.
Qualifications/Accreditations:
Associate AIA
Society of Marketing Professionals
Board of Directors – McDonough Scholarship Foundation
What attracted you to join the CUBE 3 team?
It was the recommendation of John Harding and Brian Cussen that got me in the door at CUBE 3. We all went to Roger Williams together and graduated in 2006 together as well. Brian had been working at CUBE 3 for some time, and John started in June after graduating. I had to stay the summer at RWU but I stayed in touch with John and Brian. When I was driving home, I talked to one of them on Wednesday, interviewed on Thursday, offer extended and accepted on Friday and I started the following Monday. That was 15 years ago!
What is your role at CUBE 3?
By title, I am Senior Associate Principal, but with my day-to-day execution, I lead our Business Development, Marketing and Office Management Teams, along with oversight on key projects, clients, and execution of fee proposal development across the firm. It is a lot of responsibility, but I am surrounded by world-class talent that makes all the responsibilities manageable and executable. Being able to work with the people I do to help set goals, strategic initiatives, and global strategy to help ensure the firm continues to look ahead 2, 5 and 10 years down the line is extremely engaging.
How long have you been at CUBE 3?
Ha. It feels like since the beginning of time. When I started at the firm, we were 10 people in Lawrence with about 2,500 SF. Being part of the firm since 2006 and having seen it grow and expand throughout the years has been utterly rewarding. So many great stories, great friends, fantastic projects and I am just as excited about what the future is in store for the firm now as I was then.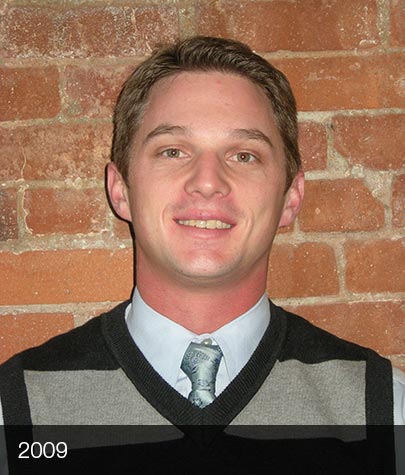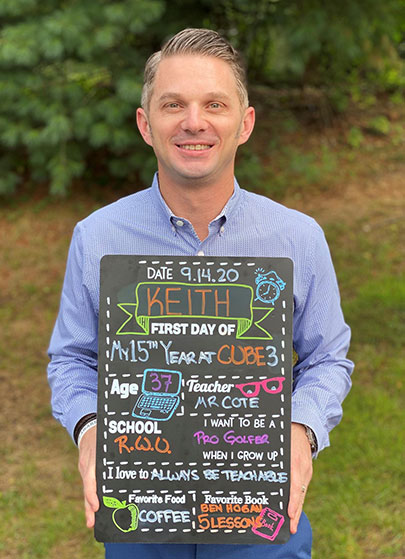 What's a lesson you have learned that has most benefited you in your career?
Always remain teachable. We all excel in various of areas in life or in our profession, but one thing remains a constant is that no one ever achieves perfection. I've learned more from the mistakes that I have made than the success that I have had in life. It is what we do with the failures, and it is 100% OK to fail, that makes up who we are and how we move forward. Always adapting, evolving, and learning from those situations is paramount in my eyes.
What inspires you?
Pretty simple. My Mom. There are plenty of other things in life that inspire me but she has been such a strong force in my life that I'd need weeks to try and explain it all. She has been with me in the highs and some very low lows. She raised three pretty good kids, is phenomenal grandmother, and has handled a stage 4 lung cancer diagnosis with class, unparalleled faith and spirit that is unmatched. I'm grateful every chance I can be around her and hope that I can become half the human being that she is.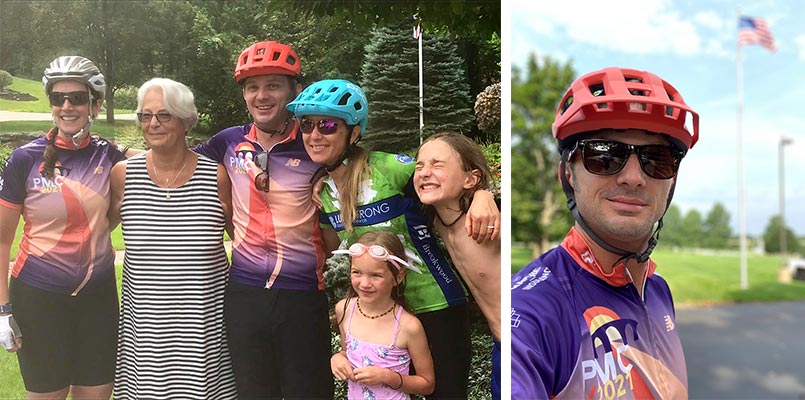 How did you get here? What were you doing before, and what made you decide to become an architect?
Without getting too deep, I firmly believe that there is a path set in place for all of us and if we strive to do our best, things will fall into place as they should. We have ownership our of lives but there are those times where things happen the way they do to set us on the right course. My Grandmother took me to NYC when I was 7 and I was fascinated with the skyline…I didn't know what an Architect was at the time but I knew that is what I wanted to do.
As far as CUBE 3, in college I shared a studio desk with Brian Cussen my first year of Studio, then we roomed together the summer of our freshman year and then shared a desk when I first came to CUBE 3. Coincidence? Maybe…but I think people are put in our lives that influence us beyond what we can imagine when we first meet them.
Then there is the first time I met Nik at my final thesis presentation at RWU. I 100% do not remember it as I was on 4 days of essentially no sleep and babbling about how I didn't like how something was printed. I must have said something coherent then, as he would offer me a job just three months later, but he has become a mentor, a friend and someone that has helped shape my career in many immeasurable ways.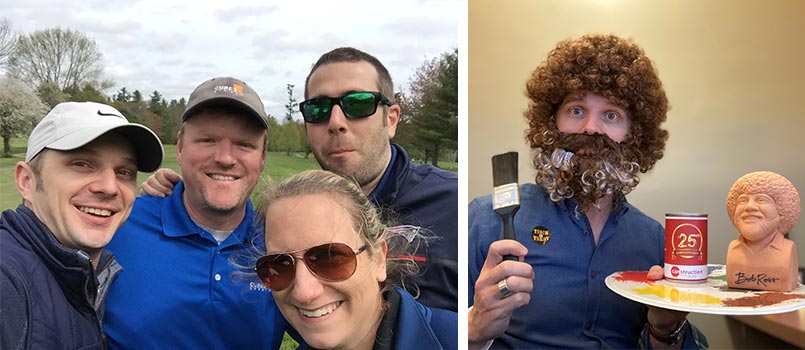 What area(s) do you specialize in?
Much of my design career has been focused on commercial/workplace and academic sectors both with ground up and renovations and for both the Architecture and Interior Design. I have worked on multifamily projects but mostly on the front-end side of the projects.
I also help to oversee, manage, and develop our fees globally for the office. This was something I was exposed to numerous years ago and have increasingly gained further responsibility and now have direct oversight of that function of the office. They can be simple or very complex with numerous factors playing into our approach. Working with our BD and Design Teams on strategic approaches to clients, nurturing those relationships, opening doors for new opportunities, and then negotiating a final deal is a rewarding process.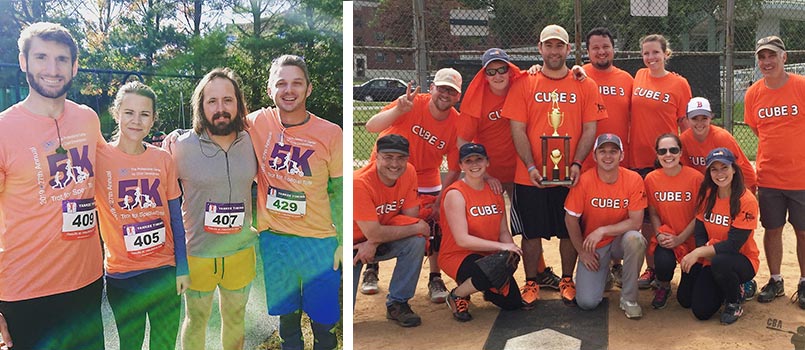 What was your first project?
Day one started with modeling student housing units for an RFP response with Campus Apartments for West Chester University. The entire office stayed until 1:30am the next night to make sure we got everything done. We didn't win the project, but a seed was planted that the collective group of people in the office was different that anything I had experienced before. I've been all in since then.
What is your favorite C3 project?
I would have to say the CVS RISD Renovation, which stands for the Retail Innovation & Store Design. It was a 42,000 GSF interior renovation with a mix of office space and amenities. They also have a fully functional 13,000 GSF Pharmacy CVS within the building as well. And I mean fully functional: complete exterior façade, signage, internal pharmacy etc. It is distinct to me as I saw the project from measuring the existing building, helping with design and space planning, working with MEP/Structural consultants and execution all the way through CA. I made many mistakes but received so much guidance by CUBE 3, the GC, the client and the entire team. It showed me what is needed to deliver a project and that all parties need to work together to make a project a success. It was an eye opener to what goes into a project and I still reflect on many lessons that I learned on that project. Adding onto it, John Hoyceanlys at CVS, is still the best client I have ever had the pleasure of working with to date.
What is your favorite C3 memory?
In the span of 15 years there are way too many to list, but one of the funniest ones I have is when Chris Santoro and I pulled an all-nighter to get a 3D animation sorted. CUBE 3 designed a 265,000 GSF Ambulatory Care Center for Elliot Hospital back in 2008 and we were pulling together a fly-through for their annual Gala. We would export; SketchUp would crash. We would change settings, export; SketchUp would crash. This went of for hours…at one point Chris looked over at me and said no matter what happens, he can't leave the office too late. We finally got is sorted and walked out at 7am. He lived in Milton at the time and was dozing off on the ride home as others were commuting in the reverse direction to start their day.
Another good memory: I volunteered to be a model for the IIDA Fashion Show in 2008 or 2009. The theme was "Decadence" and of the four models somehow I was a giant chocolate strawberry. The entire process of making the outfits, the team staying late, weekends etc. to get it all done was a blast. The night of walking out on the catwalk in front of 1,000+ people was something that I will never forget. Then there was my dyed green hair that took me hours to get the dye out, which took about 20 bottles of hotel shampoo/conditioner as we were down in RI for a project meeting the next day. Nik showed John Hoyceanlys at CVS the photos the next day, which derailed the OAC meeting for about an hour, and he still busts my chops today about it, which is amazing.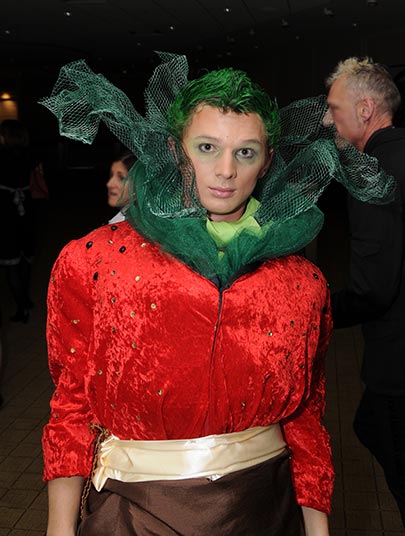 What is a skill you would like to learn and why?
I continue to try and work on professional and personal development goals on a regular basis, but I also enjoy cooking as an outlet to work and day to day life. I'm no Gordon Ramsey but I have wanted to test the waters of making, then bottling and selling hot sauce as a side hobby. I love all kinds of hot sauce and think it would be a fun experience to do.
Favorite quote?
Hear me out. "Trying is the first step towards failure" Homer Simpson – Season 9 Episode 9. I remember hearing that as a kid and I chuckled thinking about it in the literal context of failure. However, as I have grown up (and I'm still growing up) its meaning has changed that we must try something new, get outside our comfort zone, be comfortable with being uncomfortable and be OK with failing. If we aren't willing to do all those things, we stop growing and learning and I want to always remain teachable.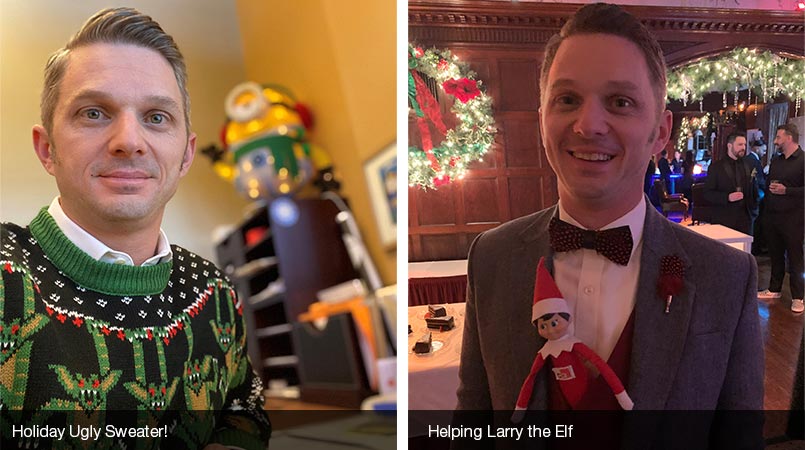 What is something you are most proud of?
I must go with something related to golf. The first time I every played was at a par 3 course in Florida with my Dad. On the 4th hole, which was a whopping 49 yards, I hit what I thought was an awful shot that never made it off the ground, but it was right at the flag and it dropped right in for a hole-in-one. I have never had another hole-in-one since then in 25 years of playing so to get one my first round was pretty cool.
Any other personal accomplishments you would like to mention?
Cycling in the Pan-Mass Challenge (PMC) has been an unreal experience. This year was my 5th year and I have managed to raise over $53k which is still unreal to me. I've been completely unprepared to ride each year but knowing I am raising money for such a good cause makes it possible.
I'm an avid golfer. I got hooked when I was young and played in high school, college, and still complete regularly through the summer with the NHGA. I've been playing in the NH State Am for 20+ years. When I was 14, I was the youngest person to qualify for the event. This year I FINALLY made it to the match play of the tournament with 63 of the best golfers in NH. My Dad has been caddying me since I was a junior so it was really rewarding to have him on the bag to finally make it.
Oh…and I played golf with Adam Sandler at Manchester Country Club in Bedford, NH when I was 14. I have a signed scorecard from him as well. It was the year before Happy Gilmore came out and is a pretty cool memory.