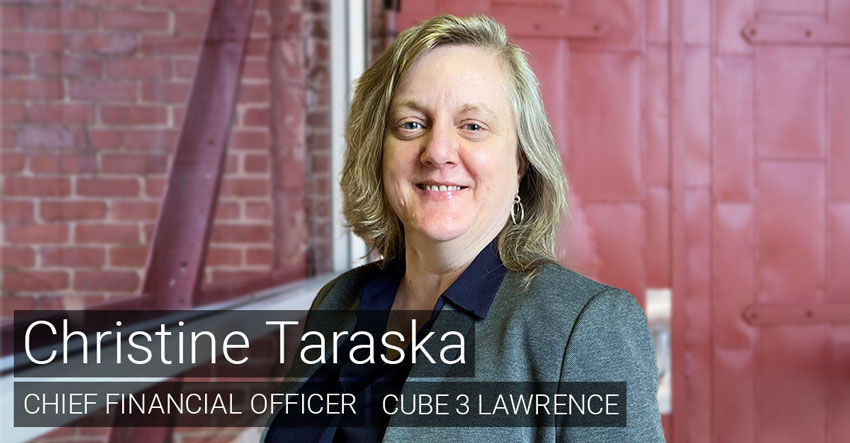 31 Mar

Woman's History Month Profile: Christine Taraska

Although Women's History Month is coming to an end, we hope it serves as a strong reminder to always honor the women who came before, and the women who pave the road in front of them today. Please take the time to learn more about our CFO, Christine Taraska, and how her professional journey developed along the way.

What made you decide to become an Accountant?
Well let's be honest, no child dreams of being an accountant – I wanted to be a spy or in the Secret Service/CIA/FBI or something cool like that. I didn't even consider this field as my first option in college (my first degree is in 18th century German literature). I kind of happened upon it in my mind twenties when I decided to leave the Air Force. The real draw to accounting for me was the analytical side of the field. I don't necessarily revel the minutia of the numbers but rather like the data analysis side — how various factors, stressors and strategic corporate decisions affect profitability and company performance. I like understanding the how and why.

How did you get your start in this field?
I'm dating myself with this one…I moved back to Massachusetts after living in Washington DC, Texas, Germany and Colorado over an 11-year period. I had no professional contacts in Massachusetts because I thought I would never come back home. I also didn't go to college in New England so I was on my own when it came to getting my first accounting job. I answered a want add in a regional newspaper and had a job within a week. I took at 50% pay cut to start this new career it was a strategic decision as a way to have a better work life balance and the start of a family.

How did you get here? What were you doing before CUBE 3?
Six years as an intelligence officer in the Air Force; fifteen+ years working with a large local public accounting firm (working up from entry staff accountant to Partner); then 5 years running my own firm. The Company I worked for had been the outside accountants for ADD Inc, which led to me working on Nik's personal taxes. I was Cube 3's outside accountant from the beginning until coming to work here. I know almost all the secrets but will take them to my grave.

What's a lesson you have learned that has most benefitted you in your career?
Own your failures and mistakes and learn from them. Failure is part of life, no one expects you to be perfect – every truly successful person knows this and has embraced this.

What inspires you?
Hope and an unshakeable belief that every day is a new chance to correct a mistake, right a wrong, and to become a better person.

What is something you are most proud of in your career?
I am most proud of the time I spent in the Air Force specifically my first assignment as the only female officer in a male dominated fighter squadron. This was the most challenging and demanding position I have ever been in and I loved every minute of it. I had a lot of exceptional experiences while in the Air Force: I got to fly in the back seat of an F-15; pulled 8+ Gs; represented the US at the first Air Show in a former Soviet Block Country; presented high level briefings to Generals and audiences of 500+; worked with NATO and joint military commands; held an extremely high-level security clearance including special programs (some stuff is classified still today); qualified on multiple weapons; and balanced all this with a final assignment working with satellites and space assets.

What do you hope to accomplish in the future? Near or far.
Hmmm this is a hard one even though I am old I still see a lot of stuff to still do and accomplish. Professionally I want to get published within the next 2 or 3 years. Personally, I want to be a better supporter and champion for my two daughters and my friends.