About This Project
Aggregate Stadium
Lagos, Nigeria
Arch Out Loud: WASTE Design Competition 2018
Arch Out Loud challenged participants to to propose an innovative solution for the redevelopment of the 100-acre Olusosun dump site in Lagos, Nigeria. We were encouraged to turn this massive landfill located next to a growing metropolis of over 21 million people into a stadium with benefits to its surrounding population.

AGGREGATE: Cooperative Ownership of an Urban Stadium
The CUBE 3 proposal re-imagines the form, function, and funding of the stadium typology to ensure its vitality while activating an underutilized parcel in a developing metropolis. Through a cooperation of private partners, the athletic complex will be a shared asset among stakeholders, all of whom contribute to its vitality. Moreover, individual stakeholders will utilize their share of space to host an array of programs in response to Lagos's exponential growth. From public markets to private offices, classrooms to residential units, the diversity of program will create a buzzing heart to an undeserved neighborhood.
Through immense population growth in the past two decades, the Nigerian Capital of Lagos has expanded faster than any other metropolis on the planet. The 100 acre Olusosun Landfill, a dump site originally on the periphery of the city, subsequently found itself surrounded on all sides by dense neighborhoods. Nigerian immigrants, primarily originating from neighboring African countries, have been attracted to Lagos for its booming formal and informal economies. In fact, with Lago's production of 11,000 tons of waste per day (according to a 2013 article published by Reuters), found the landfill to be a source of revenue as they scavenged through the trash.
Considering the impacts of an operating landfill on the health and wellbeing of those who live work and play adjacent to and within it, the local government shut down Olusosun in 2018. The result is a 100 acre void in need of remediation and redevelopment surrounded by a dense urban center. The local government plans to re-purpose the site as open public space, but has a history of mismanaging large public amenities, including Lagos' National Stadium. Despite a high demand for public gathering space and a committed fan base, the government allowed differed maintenance to overwhelm the once thriving stadium. Given the local authority's track record, it would be unfortunate to see history repeat itself on such a promising site.
Awards
CUBE 3 was ranked in the top 50 entries of the recent Arch Out Loud: WASTE Design Competition 2018.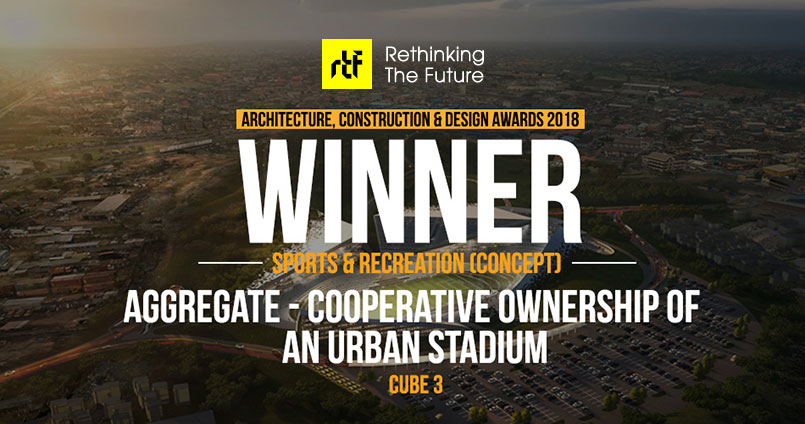 .

Conceptual Design