22 Feb

Wood Partners To Break Ground On $45 Million Alta Legacy Farms Apartment Community

Wood Partners | http://nerej.com
August 15, 2012


http://woodpartners.com/news-releases/wood-partners-to-break-ground-on-45-million-alta-legacy-farms-apartment-community-in-hopkinton-mass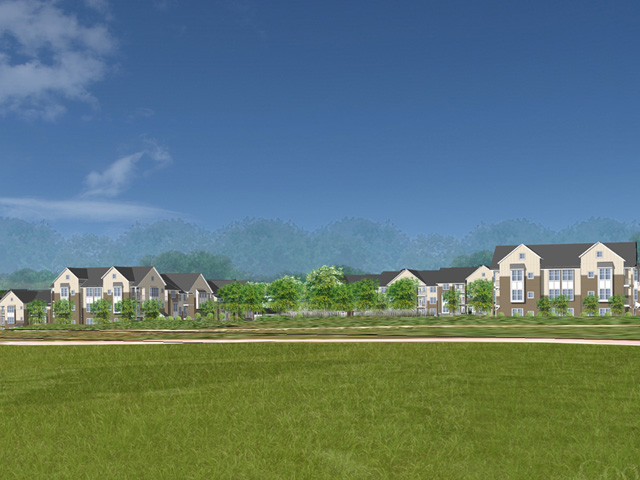 BOSTON – August 15, 2012 – Construction has commenced on a $45 million apartment community in Hopkinton, announced Wood Partners, one of the nation's largest and most active multifamily developers. The Alta Legacy Farms development is expected to be completed by the end of 2013 with pre-leasing slated to commence next June.
The 240-unit development is part of the master-planned Legacy Farms project, a 730-acre suburban community consisting of 700 single-family and attached homes in addition to the Alta Legacy Farms community – the only permitted apartment site in Hopkinton.
Alta Legacy Farms will consist of 156 one-bedroom units ranging from 772 to 1,000 square feet, and 84 two-bedroom units of approximately 1,200 square feet. Thirty-nine one-bedroom and 21 two-bedroom units are classified as affordable housing and will be offered to residents earning 80% or less of Area Median Income.
"Everything about Hopkinton makes it a highly desirable location," said Adelaide Grady, senior vice president of development for Wood Partners. "It is a rare master-planned community opportunity; there are very few such projects in the Boston market due to the scarcity of land. Alta Legacy Farms represents the opportunity to develop a garden-style suburban product more typical of commodity markets with the benefit of high entry barriers. And there is no competitive supply in the town."
Located less than 30 miles from downtown Boston at the intersection of Interstates 90 and 495, Hopkinton is perhaps best known as the starting point for the Boston Marathon, held each year on Patriots' Day (the third Monday in April). Its 28 square miles is rife with natural resources, including an expansive forest and three lakes, seven local parks, a bird sanctuary, and an extensive trail system ideal for many types of outdoor recreation including biking, hiking and cross-country skiing.
Hopkinton, which ranked 19th on Money Magazine's Top 100 Best Places to Live in 2009, boasts a median family income of over $130,000 per year and a median home price of $475,000. The town is strongly family-oriented and its schools rank in the top 10 percent in the state in terms of test scores. Residents typically commute to Boston or the nearby Framingham/Natick area for work.
It is Hopkinton's proximity to downtown Boston, one of the most robust employment hubs on the eastern seaboard and the most vibrant scholastic center in the country, and to the Mass Pike retail and employment corridor that make it an ideal area for personal and professional development.
The corporate headquarters of EMC Worldwide are located in Hopkinton, and other employers of significance within a 10-mile radius include A123 Systems, Barry Controls, Caliper Life Sciences, E.L. Harvey & Sons, Liberty Mutual, Bose, Genzyme, TJX and Fidelity Investments.
Alta Legacy Farms is a garden-style three-story walkup development on 18 acres with six acres of restricted land set aside as permanent conservation land. The master-planned Legacy Farms community includes six miles of walking trails, playing fields and village center.
Unit amenities include wood cabinets, wood-look vinyl plank flooring in kitchens and entries, appliance package including microwave range hoods, garbage disposals, one-inch vinyl window blinds, cultured marble vanities with integral sinks in bathrooms, and full-size washers and dryers in all units.
Common amenities include a clubroom with a tasting lounge, billiard room, coffee bar, media room, business center, and cyber-café, theater, and an expansive fitness center with personal televisions on cardio equipment. Adjoining the clubhouse is an outdoor lounge area with firepit and built-in grilling stations, and a resort-style pool complete with sundeck.
The seller is Legacy Farms LLC, the broker is Cushman and Wakefield and the equity partner is Bavin, Inc. WP East Builders – Legacy is the general contractor for the project and Cube3 Studios are the architects.
About Wood Partners
Wood Partners is a national real estate company that acquires, develops, constructs and property manages high density and mixed-use communities. In 2011, it was ranked the nation's No. 1 multifamily developer with 3,750 unit starts. Through quality construction, responsible land development and intelligent design, our communities reflect the aesthetic and social fabric of the community and provide a luxurious living experience at a fair price. The company has been involved in the development of more than 40,000 homes with a combined value of more than $5.5 billion nationwide. Wood Partners has offices in 15 major markets nationwide including Atlanta, Baltimore, Boston, Charlotte, Delray Beach, Dallas, Denver, Houston, Newport Beach, Orlando, Phoenix, Raleigh-Durham, San Francisco, Seattle and Washington, D.C. To learn more about Wood Partners, please visit our Web site at www.woodpartners.com.