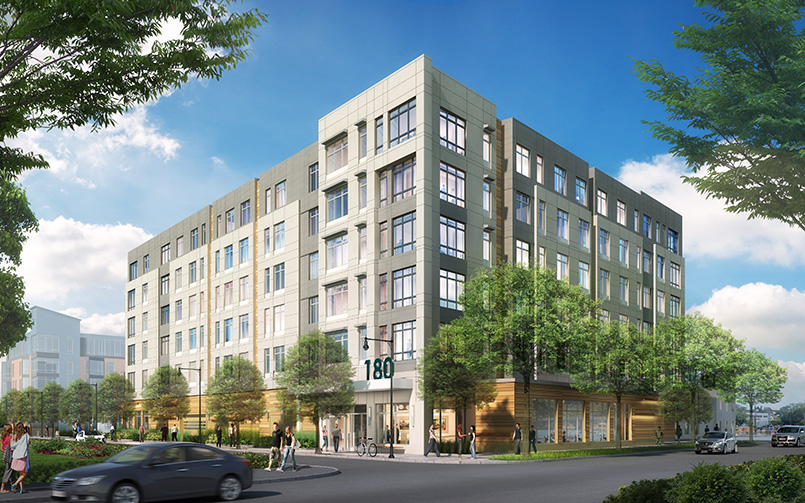 20 Oct

CUBE 3 Studio Designs 85-Unit Telford180 Condominium Project
NEREJ Property of the Month
CUBE 3 has been awarded Property of the Month in the October issue of New England Real Estate Journal for our work on the Telford180 Condominiums. Our project team included R.W. Sullivan Engineering, Stantec, and Ryan Assoc.
Allston, MA Telford180 is a six story condominium building located across from the Charles River at 180 Telford Street. The building is connected to a pedestrian bridge adjacent to a public park and the Charles River waterfront. The site houses 85 new residential condominiums in five floors of wood framed construction over a two-story parking garage at the corner of Telford Street and Soldiers Field Road. Condominium styles include a mix of studio, one bedroom and two bedroom layouts. The project's design includes influence from the local art culture, combining materials such as wood and metals.

The residential amenities are of a contemporary design including a fitness center with a rowing room, indoor clubroom, bike garage, and a mail lobby. The exterior landscaped semi-private raised courtyard includes a fire pit, in addition to a grilling area. An approximately 6,000 SF publicly accessible, privately maintained plaza will be located at the south end of the site at the corner of Telford Street and Western Ave. The parking garage will accommodate 84 parking spaces and bike racks.

Although The Davis Companies Telford 180 is expected to complete construction by year end of 2017, the project has already sold out their condos. The team consisted of the project architect: CUBE 3 Studio, the general contractor: Dellbrook | JKS, and the landscape architects: Stantec and Ryan Associates. The MEP engineering team was from RW Sullivan.
Read more at: New England Real Estate Journal
To read more about the Telford 180 Condominiums and view additional photographs, visit our website here.