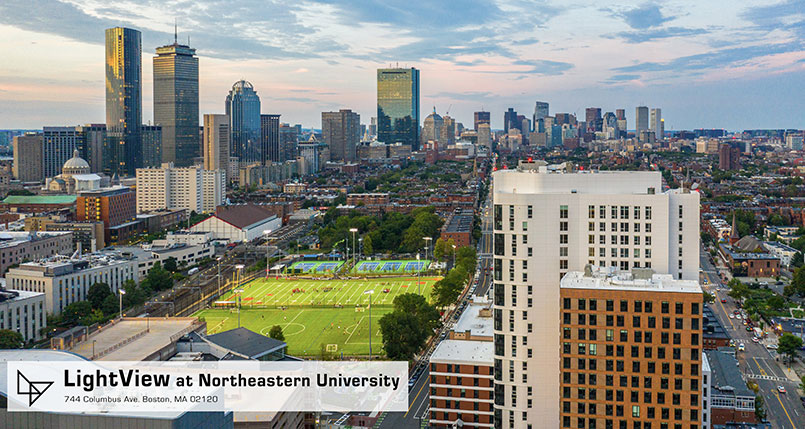 25 Oct

LightView at Green Build Showcase

Designing sustainable living spaces is crucial to providing a healthy, comfortable, and socially responsible environment for students to thrive in. LightView has been designed and built using construction industry best-practices for sustainability and measured by the LEED for Homes Mid-Rise rating system. The Project site is located on the southeastern edge of the Northeastern University campus and is an ideal location for pedestrian and transit-oriented student housing. The building includes commercial space and student related community amenities and services at the ground floor, and 207 modern student apartments (798 beds) housed in an assemblage of components: a low-rise portion of eight stories on Columbus Avenue, a mid-rise portion of 16 stories on Coventry Street, and a high-rise portion of 20 stories in the middle of the block on Burke Street. The mid-rise and high-rise are connected by a glazed narrow bridge, which create transparency through these two component parts.
LEED
This project is tracking to be certified as LEED Platinum for Homes Pilot Program and is currently finalizing verifications. It will be the first LEED for Homes Platinum high-rise student apartments in Boston.
Sustainable Project Facts:
Public Transportation Access
Bicycle Storage for >15% of residents
Preferred Location – Infill Site
Outstanding Community Resources
Access to Open Space
Reduced Heat Island Effect, Roof
Very High Density Development (345 units/acre)
Water Use Reduction
Optimized Energy Performance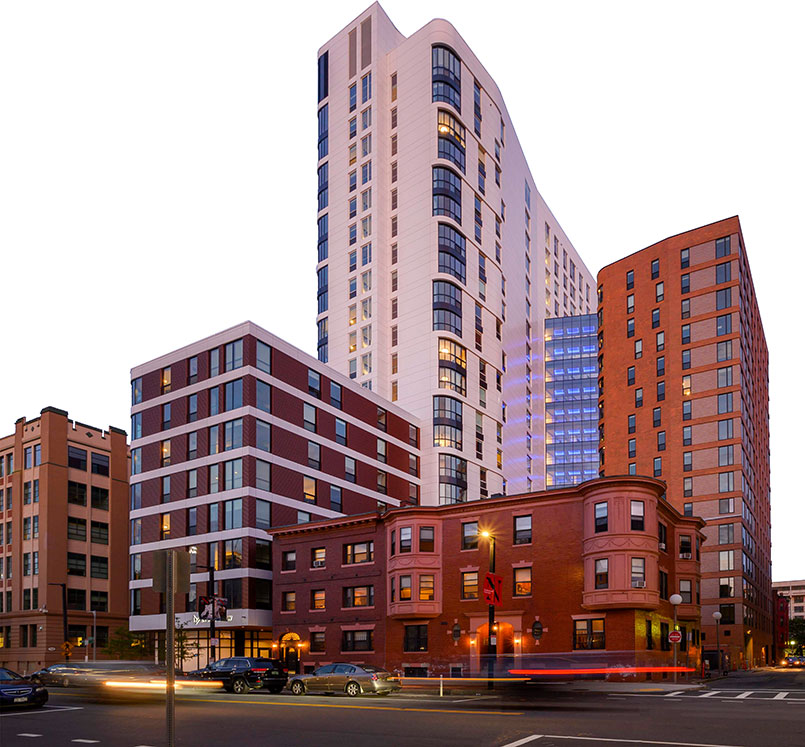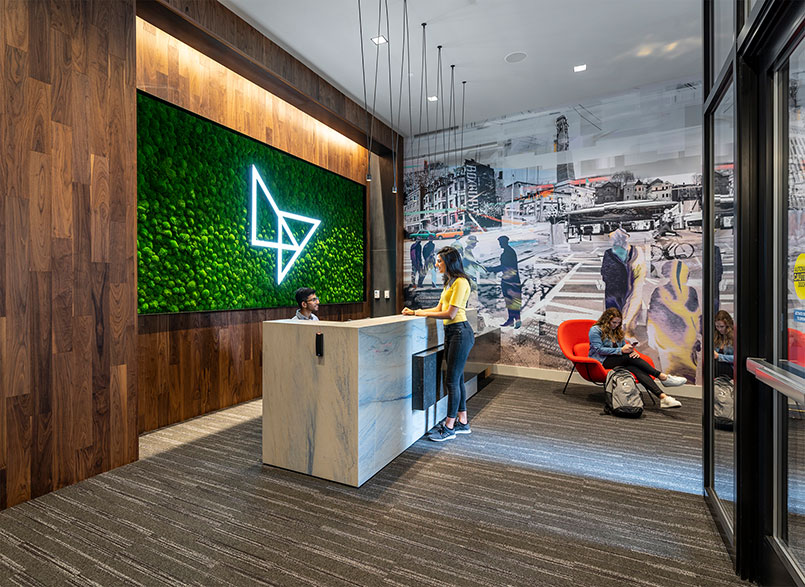 Site
This is an infill site where building design approach required sensitivity to the existing historical scale of Columbus Ave as a critical campus street. Inserting a high rise into this neighborhood fabric required a unique approach, resulting in what appears to be three separate structures that create layers of scale, respecting the edge of Columbus at a human scale, and allowing for a section of the building to rise 21 floors. The site is surrounded by an outstanding amount of community resources and transportation options to strengthen the student's connection with the surrounding community. A key function of the design intent is when standing on north campus looking at the Boston skyline, the vertical towers are elements that students can use to navigate campus.
Wellness
The building amenities and units were carefully designed to provide students with a healthy, interactive and exciting living environment that supports both academic growth, and contributes to their well-being and sense of place on campus. This is their home, and their neighborhood. Laundry and study facilities are integrated with recreation areas, casual lounges and access to fitness, music and a rich variety of social spaces. Low VOC flooring was used and
Every residential apartment unit has wall-mounted bike storage for a capacity totaling 590 bikes (74 percent of building residents). Additionally, the Project will have a common secured resident bike storage room at the ground floor for 44 bikes that will include a self-service bicycle repair station. There will be another 48 bike spaces for building visitors and retail customers distributed around the site.
Energy
Energy efficient features include: High-performance building enclosure with Air Barrier and Low U-Factor windows, low-albedo roof, Energy Star appliances, High-efficacy LED lighting and room occupancy sensors throughout.
Water
Water efficiency features include: High-efficiency low-water laundry machines and low-flow water fixtures – showerheads, lavatory faucets, and toilets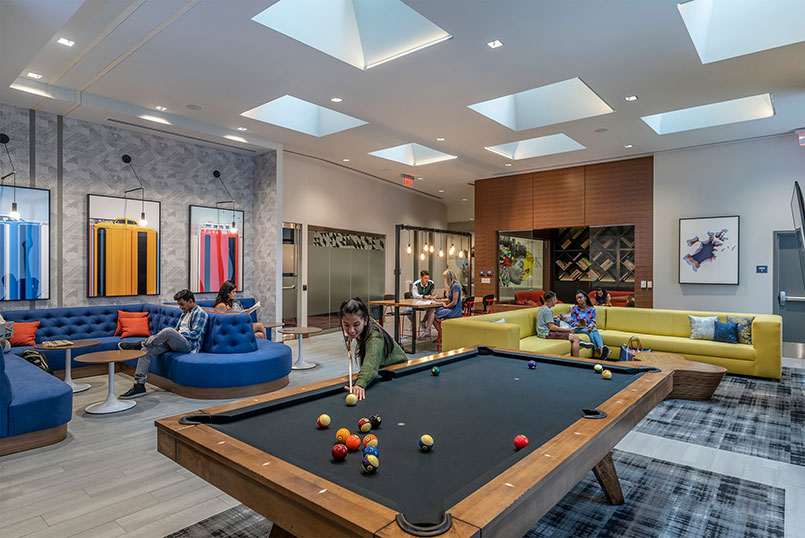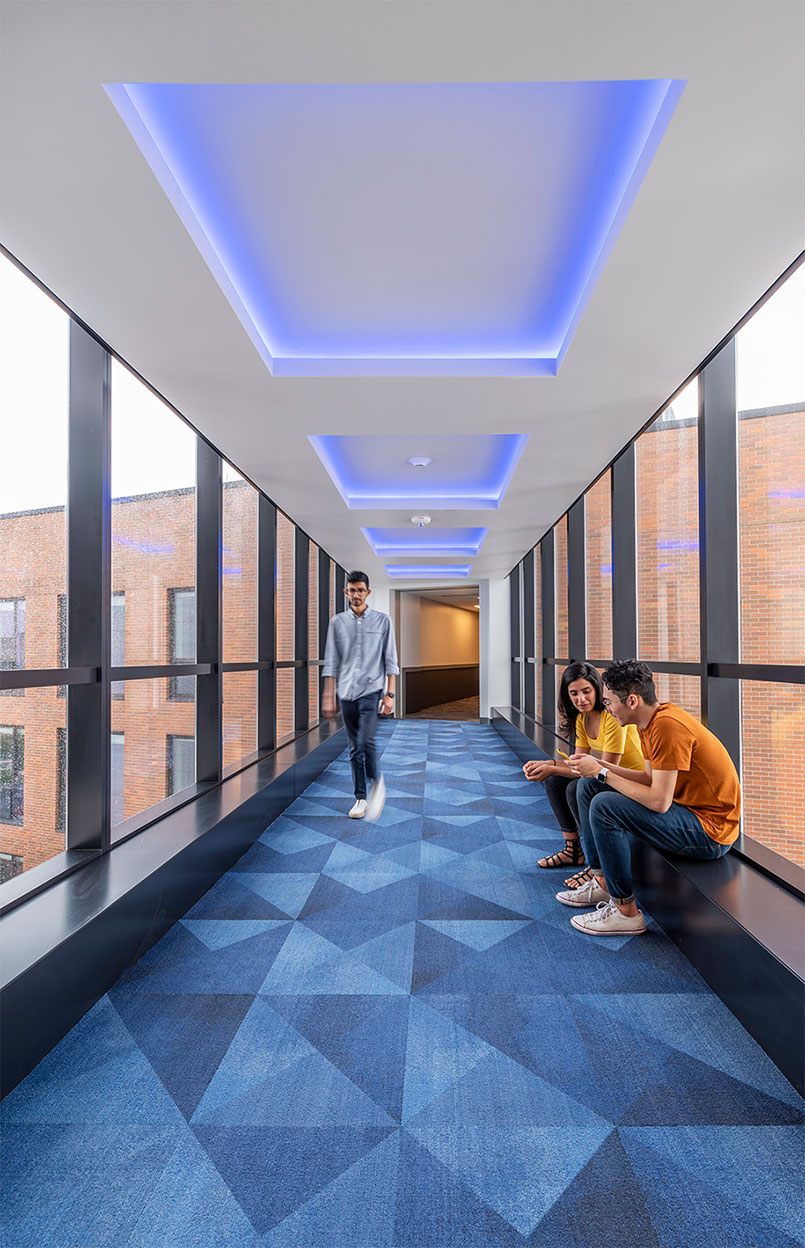 Project Team
OWNER: American Campus Communities
ARCHITECT OF RECORD: CUBE 3 Studio
DESIGN CONSULTANT: Elkus Manfredi
LEED CONSULTING: Price Sustainability
GENERAL CONTRACTOR: John Moriarty & Associates
INTERIOR DESIGN: Sixthriver Architects
STRUCTURAL: McNamara Salvia
CIVIL: Nitsch Engineering
LANDSCAPE: Copley Wolf
MEP/FP: AKF Engineers
CODE: Cosentini Associates
WATERPROOFING: Simpson Gumpertz & Heger
PERMITTING (BPDA): Epsilon Associates
ACOUSTICS: Acentech
LIGHTING: BR+A
Photography © Flaunt Boston