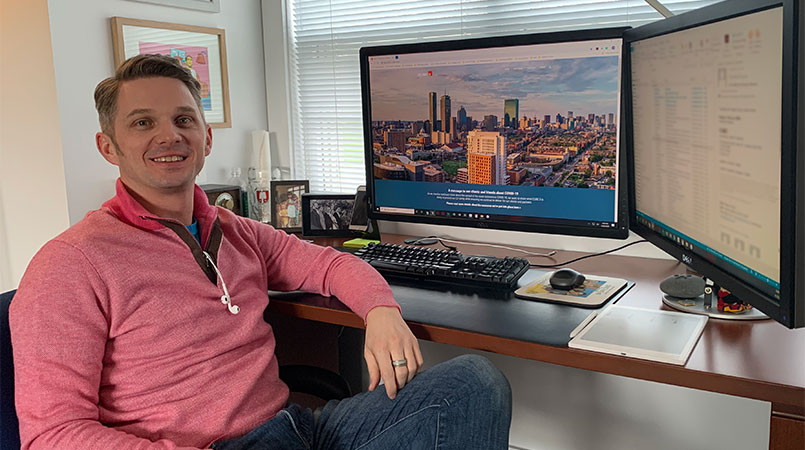 30 Apr

Adapting to working from home during COVID-19

By Keith Boyle
Senior Associate Principal


As I tended to spend time both working from the office as well as from home, working from home has always felt very fluid to me. Since COVID-19 has forced us to all work from home I've begun to view the situation for all of us as "adapting from home." While the situation has presented its own set of obvious, and not-so-obvious challenges, I also feel that it's opened up other opportunities as well. As a result, working from home has shifted my perspective on the HOW: Honesty, Openness, and Willingness.

Without physically seeing each other in a work environment, being honest with my team members about aligning expectations, deliverables and what challenges we are all facing in an evolving world has become even more important. Remaining aligned results in a greater likelihood that we will continue to have success and an understanding of what success looks like to everyone.

I find that it's imperative for us to have an openness to our evolving working situation. No one is going be able to do the usual "9 to 5" workday – whatever that was before quarantine in the AEC industry. However, we do need to be open to adapt with team members to facilitate a balanced approach to our day. Our work and personal worlds are being blended together now more than ever before and openness to adapt is needed more than ever.

We all need to have the willingness to adapt to meet the needs of the day. While it can feel like Groundhog Day at times, no two days have really been the same. The willingness of staff to be on GTM, texts, chat threads, etc. to communicate has made all the difference. We're grateful that people are willing to keep all lines of communication open, in order to maintain the connection we were used to having when we spent endless hours of each day together.

What has the adaptive shift in perspective led to? An admiration for CUBE 3 and our staff beyond my previous expectations. We are rounding into week 7 on full remote operations, and although I'm not physically in the office, the connection, communication and confidence in our staff have grown exponentially. If we continue to focus on each other during these uncertain times, the work will get completed, deadlines will be meet and clients will remain happy.

However, none of that will happen without knowing HOW to continue to work together, but more importantly, being there for one another.