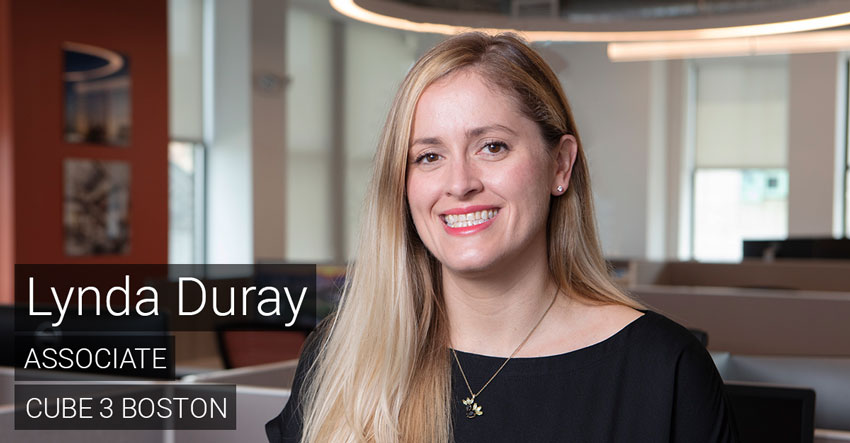 10 Mar

Women's History Month Profile: Lynda Duray

We're celebrating Women's History Month and all of the women who work at CUBE 3 by taking the time to learn more about who they are and what brought them to where they are in their careers today. Please take the time to learn more about Lynda Duray, an Associate in our Healthcare division from our Boston office.

What made you decide to become an Interior Designer?
From a young age I was constantly rearranging furniture or thinking of ways my childhood home could have been a better layout. At that time, I didn't even know what interior design was, of course I knew about interior decorating, but not Design. Once I discovered the technical intricacies of being a designer: looking at the space planning, the details, the relationship between all aspects of a space; that was when I found my passion.

How did you get your start in this field?
I had a childhood friend that was majoring in Interior Design. She introduced me to what it truly was and I decided that is what I should be doing. At the time I was in my freshman year majoring in Hospitality/Hotel Management. I started looking at schools and made the transfer. After graduating I worked at a fabric and wallpaper store for a couple years until I started at my first architectural firm.

How did you get here? What were you doing before CUBE 3?
I started at a small design/build firm which focused on healthcare in 2007. Healthcare design was never something that interested me when I was in school but wanted to get architectural firm experience. 15 years later I am part of the growing Healthcare department of CUBE 3 and love my specialty.

What's a lesson you have learned that has most benefited you in your career?
Don't be afraid to try. That goes for the projects and your role in the office. If you never push yourself out of your comfort zone, then you will be stuck doing the same designs and the same tasks.

What inspires you?
Problem solving, as a designer and in management tasks. I am energized by the process of looking at all the parts and pieces of a problem and then working through to find a solution or solutions of how to improve a space/process/experience.

What is something you are most proud of in your career?
When a patient comments on the positive experience they had in a space I designed, knowing that the choices my team and I made have aided in a person's physical and mental wellbeing is a point of pride.

What do you hope to accomplish in the future? Near or far.
I am looking forward to the growth of the Healthcare Department in CUBE 3. My career in healthcare design has been focused on the New England area. I am excited to expand my experience to a national level and learn the intricacies of healthcare for different regions.