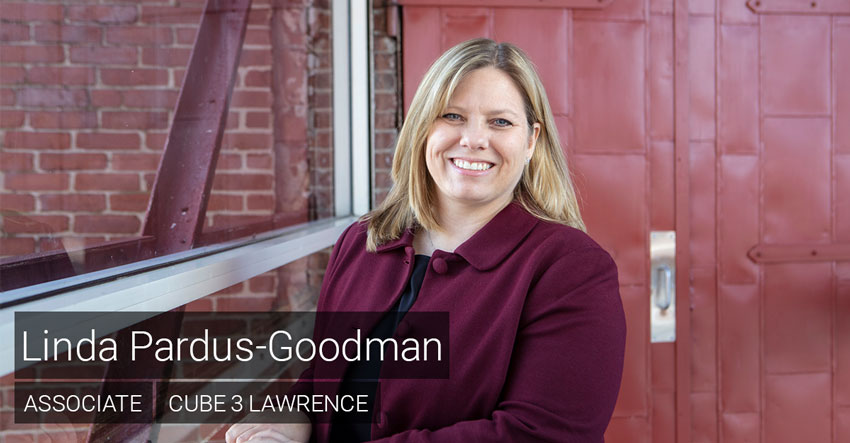 15 Mar

Woman's History Month Profile: Linda Pardus-Goodman

Often, to appreciate where you are, it's important to look back on where you came from. Our celebration of Women's History Month continues with a closer look at Associate Architect Linda Pardus-Goodman's journey, and the events in her life that brought her to where she is today in her career…

What made you decide to become an Architect?
Growing up I had always assumed that I would follow more of a business path like the rest of my family, but after a couple of semesters in college it became very clear that I needed something different. I was always strong in math and science, but also loved the arts and computers…architecture just seemed like a natural fit.

How did you get your start in this field?
It wasn't until I was halfway through working toward my BA at Bowdoin College that I started considering a shift to architecture. I completed my degree, went immediately to RISD to earn my Masters in Architecture and have been firmly planted in the architecture industry ever since starting my career in the public sector designing schools.

How did you get here? What were you doing before CUBE 3?
I've worked in many areas of architecture during my career with my early work focused on public architecture – educational and civic buildings including the Boston Exhibition and Convention Center. From there I shifted to single family high-end residential work as a sole proprietor while my children were young allowing me to fully set my schedule and workload around their needs. As my children got older, I found myself craving to get back to larger scaled projects which led me to CUBE 3.

What's a lesson you have learned that has most benefited you in your career?
Ask questions. Architecture is a field of constant learning and building upon previous experience.

What inspires you?
It is always amazing to see the result of your work viewed through the eyes of the end user. Whether it is a student in their new learning environment, or a family in their new home, the spaces we create can have a real and positive impact.

What do you hope to accomplish in the future? Near or far.
I am consistently trying to increase my knowledge base. The number of Passive House projects that are in our office are steadily increasing so I looking to add CPHC (Certified Passive House Consultant) to my credentials in the very near future.