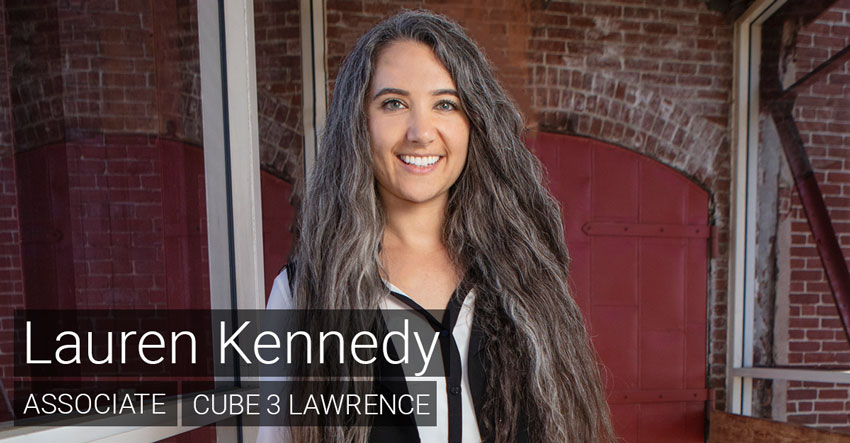 18 Mar

Woman's History Month Profile: Lauren Kennedy

We are so proud of all of the strong women who work at CUBE 3, including Associate Interior Designer, Lauren Kennedy. Our focus on #WomensHistoryMonth continues with a closer look at how Lauren started her career and the things that still inspire her today.

What made you decide to become an Interior Designer?
I grew up in a construction zone until middle school. Our floors were plywood. Our walls were exposed studs and electrical conduit. Our lights were bulbs hanging from jboxes. This sparked a curiosity in how a building is constructed, what are the basic functionalities and how design can help make everything so much better.

How did you get your start in this field?
I graduated during the "great recession" and was fortunate enough to meet the esteemed Bruce Rhodes as a new grad Knoll event. We connected after his inspirational talk and I had an interview with KlingStubbins the next week. I worked with Bruce and the entire interiors and architecture team on a million square foot campus for APEC Summit / FEFU in Russky Insland, Russia. We designed conference centers, classrooms, gala spaces, pre-function areas, hotel rooms, a spa, restaurants, you name it this project had it.

How did you get here? What were you doing before CUBE 3?
After that first epic project at KlingStubbins, I've had the opportunity to work on multiple project types from lab/office, to high-rise multitenant lobbies, to hotels, to tech startups, to non-profit community gathering spaces, to multifamily properties. The variety in project type and client has fueled and energized my career.

What's a lesson you have learned that has most benefitted you in your career?
Taking all the knowledge, best practices, trends and lessons learned from all sectors and infusing them in each project. Our lives have become so blended, every space needs to serve every function. People "work" in their PJs from home, at the local coffee shop, in the airport and they "home" during their client Zoom call when their toddler must show them their dinosaur toy.  Spaces need to be flexible, adaptive, and thoughtful and help people live their best, most fulfilling lives wherever they choose to do that.

What inspires you?
Lots of things. Beautiful, thoughtful spaces. Walking into a store or restaurant where every detail is infused with the brand experience and the concept reinforced every design decision that was made. Listening to others present, when they're passionate about their design and can eloquently articulate their ideas, it can energize a room. Getting my toddler to do an arts and crafts project with me (a hard task to accomplish). Going for a walk-in beautiful weather, especially if there's a sunset or gorgeous sky to gaze upon. Anything can inspire.

What do you hope to accomplish in the future? Near or far.
To continue to help build the interiors team at C3. To provide guidance, mentorship and share knowledge and lessons learned. To help everyone see that everything they do, every aspect of their job is just as important from concept inception to documentation to construction. They are the authors of the designs that turn into the space that shelters and inspire our communities.