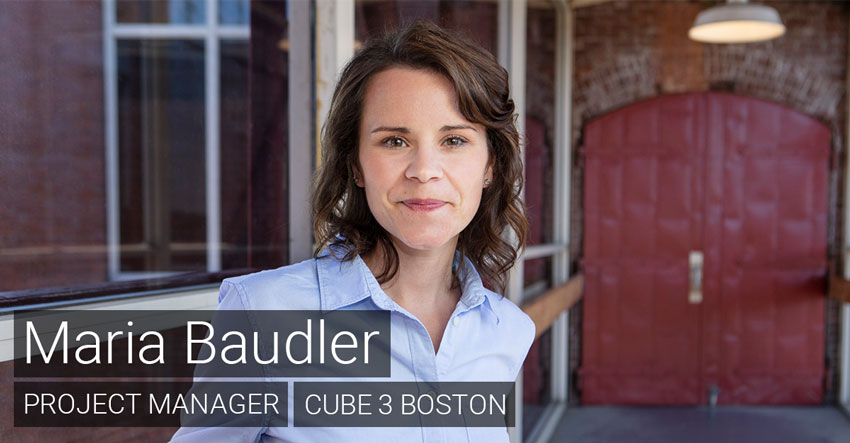 24 Mar

Woman's History Month Profile: Maria Baudler

We are so proud to have so many accomplished women on our team at CUBE 3. Including Project Manager for Architecture, Maria Baudler. Please help us continue to celebrate Women's History Month by taking a closer look at Maria's history and the steps she had to take to be where she is today.

What made you decide to become an Architect?
In 11th grade we went to Prague for our last school trip. I was amazed by the architecture in the city. It offered a good mix of old, preserved, and new, modern architecture. That experience, my love for fine arts and my interest for technical things, made me apply for architecture school.

How did you get your start in this field?
After deciding that I would go to architecture school – I was 19-, I had 3 months before my architecture school was going to start. I had some time to spare and applied for an internship at big design-build company. They assigned me an assistant project manager position at a big construction site in Fulda, Germany, that included a hotel, an Olympic size swimming pool, a multi-event facility and a parking garage. – The site was so big that each part of the project had its own Project Manager. My project manager and I were responsible for the hotel portion of the job. After I completed the internship, I started my architecture studies and kept working for that same company for several years filling my free time between semesters and during semesters. This company was also the first firm that hired me as a full-time employee after graduating in early 2011.

How did you get here? What were you doing before CUBE 3?
Phew, how did I get to CUBE 3…I have worked for several firms before CUBE 3 and appreciate all the great teachers and mentors I was able to work with. I wouldn't have the knowledge that I have now if I hadn't met all these wonderful people along my way.
I learned the first steps in that design-build company in Germany, I moved to the US in 2013 and was approached by a small architecture firm, because they had a German client and needed someone like me. In late 2013, I switched to Davis Square Architects where I met Lauren Saunders. At some point in early 2016 I decided to pack my things and move to Austin, Texas working as a PM for a firm there. I loved Austin, but in late 2017 I returned to New England. Lauren had worked for CUBE 3 for about a year at that time and said I could apply here. I applied at CUBE 3 and some other firms, and decided to take CUBE 3's offer.

What's a lesson you have learned that has most benefitted you in your career?
This is my own approach and others may think of it differently, but being humble, being honest in a kind way and asking questions have benefitted me the most.
I believe that if you work with that attitude, you will have people hovering around you that want to teach you, take their time to make you better in your job and enjoy working with you.

What is something you are most proud of in your career?
When a client or consultant comes back to me, telling me that they're happy with my work and that they're looking forward to working with me again.

What do you hope to accomplish in the future? Near or far.
I have a passion for teaching younger folks about detailing and construction experience. I'm hoping to continue that and possibly deepen that role. – I also am always curious to learn more. The architecture and construction field is constantly evolving. My goal is to keep an open mind and be challenged with the new ways and technologies that will come.