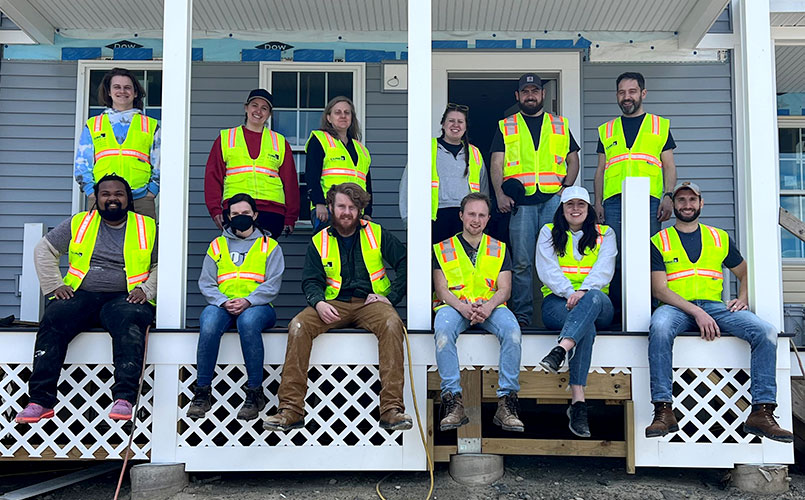 30 Apr

Habitat For Humanity Build Day

Saturday April 30, 2022

On a chilly morning on the last Saturday of April, twelve CUBE 3ers volunteered to help with a 3 unit townhouse located at 81 Harrison Street in Worcester. Ted, the amazing site supervisor, and Curtis, his assistant, started to delegate work for us to do after giving us an introduction to the history and inner workings of Habitat for Humanity. Most of us were painting and priming the wall and ceilings of the units while a smaller team worked on plastering one of the basements. Everyone worked hard from 8am to 4pm and our efforts paid off. We were informed that we were the largest volunteer group the affiliate has had in a while and our ability to work together was showcased throughout the day. We wanted to thank everyone that was involved to make this volunteer day a reality. We hope to continue to create meaningful change in our communities and volunteer with a variety of organizations to celebrate the many cultures and identities represented at CUBE 3 and our neighbors.

Pictured above (left to right):
Top Row: Cullen Ullo, Lynda Duray, Christine Taraska, Leah Caputo, Ricky Long, Tino Freitas
Bottom Row: Neil Daniel, Caroline Golota, Breandan Andre, Joe Taglia, Michelle Morsicato, Luke Beck

Many thanks to:
Neil Daniel for leading this initiative, organizing and coordinating all the logistics, and making the day a reality
We'd also like to thank Keith Boyle and Rens Hayes of Hayes + O'Neil. Keith connected us with Rens who has worked with CUBE 3 on projects before. Rens is also VP of the Greater Worcester/Metrowest Habitat affiliate and he provided us great insight into his affiliate and the organization as a whole.
We'd like to thank Ted Oxholm, Construction Site Supervisor, and his assistant Curtis
We directly worked with Molly Pietrantonio, who is their Volunteer Program Manager
Deborah R. Huegel is their VP of Philanthropy who was also extremely helpful organizing our build day as well
About Habitat for Humanity
The philanthropic mission of Habitat for Humanity started more than a decade before the organization was officially incorporated in 1976. Habitat's co-founder, Millard Dean Fuller, and his family started their journey as a Christian ministry building affordable homes in the country of Georgia. Their work expanded to the Democratic Republic of Congo (at the time, the country was known as Zaire). Before heading back home to the Unites States, the Fuller family spearheaded the development of 100 homes and sold them to families through the Fund for Humanity. The Fullers then returned to the United States and gathered supporters to create the organization we now know as Habitat for Humanity International. Habitat for Humanity continues its philanthropic efforts in over 70 countries and has helped more than 39 million people. https://www.habitat.org/
The need for affordable housing continues to be a concern around the world including the United States. According to a survey done by the Pew Research Center, 49% of Americans believe that the lack of available affordable housing in their communities is a major problem. Housing Matters says that "Housing unaffordability also leads to problems with housing quality and instability, which can have detrimental effects on children's mental and physical health." Habitat for Humanity gives opportunities for low-income families to have a home they can call their own. Having affordable housing allows room for community members to invest more of their time and money into their families and neighborhood.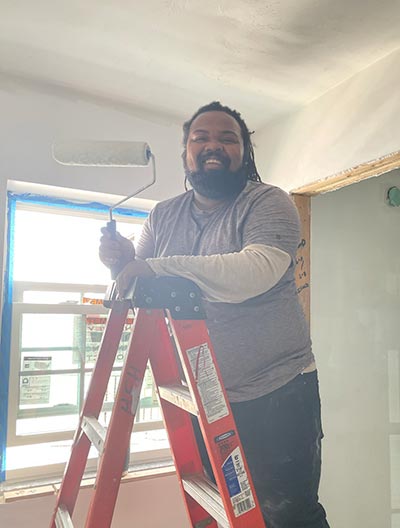 Very Special Thank You to Neil Daniel!
Thank you Neil for organizing this build day! Your efforts have not gone unnoticed and have set a positive precedent for future EDI events and volunteering. Cheers to a successful event!
Ricky Long
"Volunteering is something I love to do and this was a great opportunity to help out the community. It was great to get some insight to all the hard work and organization the members of Habitat put into this program day in and day out. I was interested in hearing the payment structure and how people go through the closing cost process when buying affordable housing. The low was hearing how many people still struggle with housing and the high was finding out how many people are working hard to change that. I learned how to plaster a wall and apply texture using a concrete brush. I would be more than happy to volunteer my time again in the future."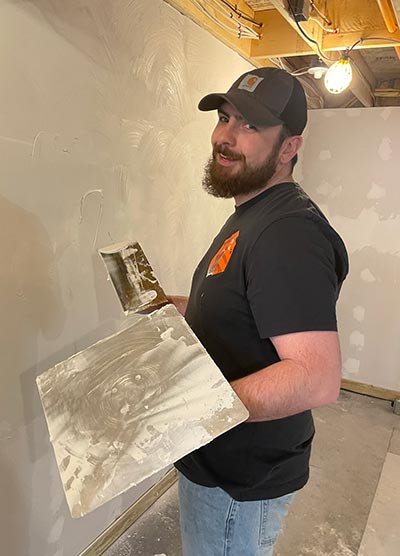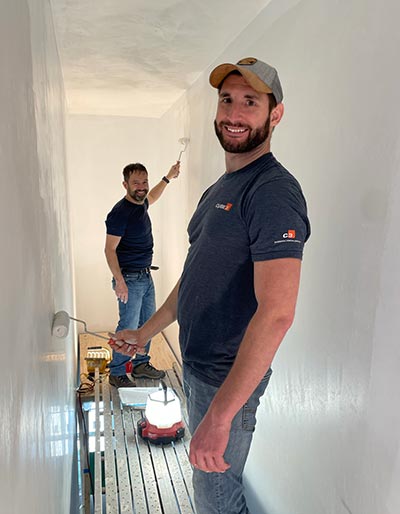 Luke Beck
"I've always enjoyed hands-on construction work, and find building things very rewarding. That plus the aspect of helping someone gain a safe secure place to live, which is something many of us take for granted, made it exciting to volunteer. The background on HFH given by our contact was educational, I had little insight on the program before, and it was interesting to learn about HFH's origins and how they operate – I'm impressed by how well thought out their logistics are in terms of helping their new homeowners handle logistics, mortgages etc. I'd say the high point of the day was seeing how much we all accomplished as a team, and receiving feedback from our HFH contact that we all accomplished more than they expected us too. All said, it was a great time and rewarding day, I'll definitely plan to participate in future build days."
Caroline Golota
"I volunteered for Habitat for Humanity because I believe giving back is a great opportunity to see first hand the communities we design for. This was the first time I had volunteered with Habitat for Humanity, and I thought Ted and Curtis did a great job explaining how Habitat works and the organization's goals. I didn't know much about the process of how families are chosen and the amount of hours they themselves put into their homes. I did not have any lows for the day, I enjoyed working as a team with people from both Boston and Lawrence to get the tasks done. We got a lot accomplished in one day and I am glad we could help out. I hope to volunteer for something like this again in the future."
(For the record, Caroline is smiling under her mask.)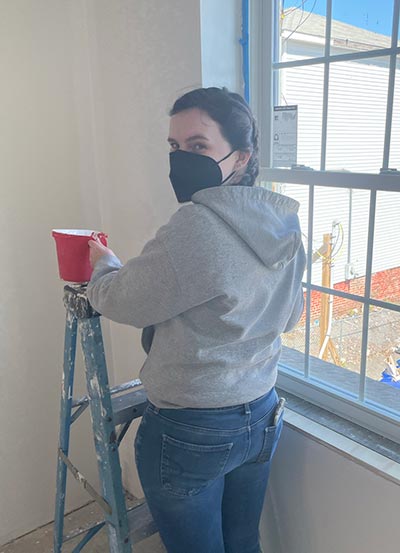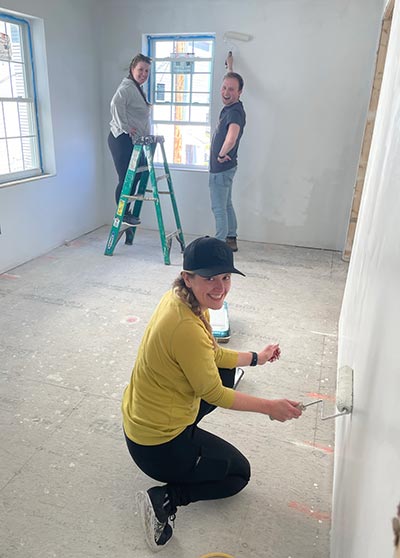 Lynda Duray
"I love being able to give back to the community and habitat has been an interest for a while. I feel like I have a better understanding and knowledge of the organization, their goals, and their involvement in affordable housing after this experience. I thought habitat was just about the building, finding out about their continued involvement through the financing was very interesting.
Besides the enjoyment of getting to connect more with co-workers, I was very happy to hear that we had exceeded their expectations by getting more work done than they had originally planned for us. I will definitely be volunteering in the future!"
Cullen Ullo
"I wanted to be involved with EDI a bit more and saw this as the perfect opportunity. Learning about Habitat and the organizations goals from Ted (the site super) was perfect. He seemed like a great guy and was very open about his own thoughts/feelings of working with HFH for 6 years. Hearing about how it started was also intriguing and I wouldn't mind learning a bit more down the road. Learning about some of the design work in the beginning was interesting but also realizing the different details that went into these projects was enlightening, really allowed me to see how my designs and choices affect future construction.
Highs of the day were being around others while working and genuinely just getting to know some peeps outside of the office, whereas the lows for me was being underneath the stairs while plastered and plastering.
It was an enjoyable experience and it being such a nice day was the cherry on top. Made me feel like I used my time well and would look forward to seeing some of the higher ups get involved as well, would make me feel proud to work for a company that doesn't differ its employee hierarchies."