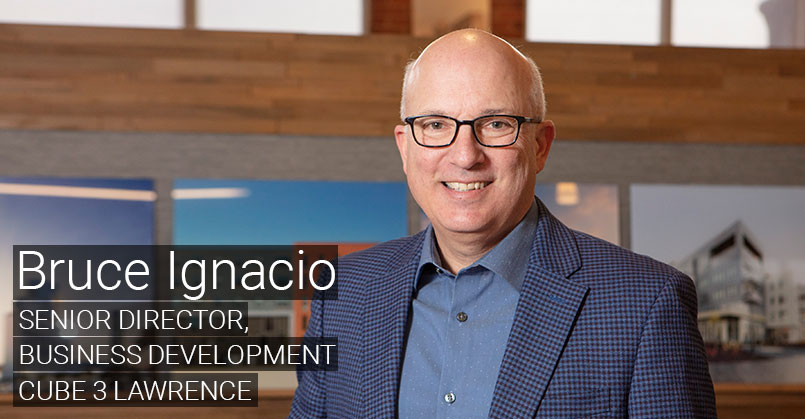 15 May

Bruce Ignacio 15 Year Anniversary
Congratulations Bruce on reaching your
15-year anniversary with CUBE 3!
Please join us in congratulating Bruce Ignacio on this milestone work anniversary and 15 memorable years with CUBE 3. As our Senior Director of Business Development, Bruce has always been an integral part of our team. His infectious positive attitude and seasoned business acumen make him a priceless asset to our organization. His focus on building, strengthening, and expanding client relationships have unequivocally shaped our reputation and contributed to our long-term success. Please take a few minutes to read more about Bruce so you can understand how special he is to us. Congratulations, Bruce!
Years in the Profession:  25 (ouch)
What attracted you to join the CUBE 3 team?
Nothing personal to my highly talented and creative teammates BUT I honestly never imagined myself being happy working for an architectural firm. However, from the early days I knew Nik and Brian wanted to build a different design firm. One that would make an exciting impact as a refreshing change to the industry. This certainly aligned with my business approach. I must say that this client first, never settle, entrepreneurial spirit has not diminished.
What's a lesson you have learned that has most benefitted you in your career?
Celebrate the wins – Learn from the losses – Never burn bridges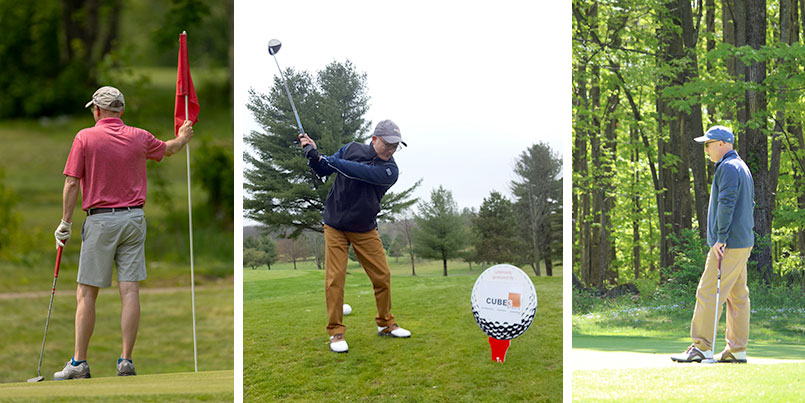 Sightings of Bruce in his natural habitat
How did you get here? What were you doing before, and what made you decide to go into Business Development?
I was a founding partner in a Boston/MEP engineering firm. In those days Nik and I chased a lot of projects together, first at ADD Inc and then at CUBE 3. Not sure if Nik remembers but at times we would meet for lunch at a restaurant called Atasca around the corner from his ADD Inc office (very good Portuguese food). One day he begins to tell me he is confidentiality thinking of leaving and starting his own firm. I remember trying to talk him out of it. 3 years later I called to ask if we could meet for lunch in Lawrence. The rest is history…
What area(s) do you specialize in?
Senior BD executive focused on building, strengthening, expanding business relationships that benefit CUBE 3 reputation and long term success. Creative collaboration with strategic partners to expand target markets, nurture business contacts and foster valuable client relationships. Drive C3/BD group through market intelligence, continued opportunities and creative client management.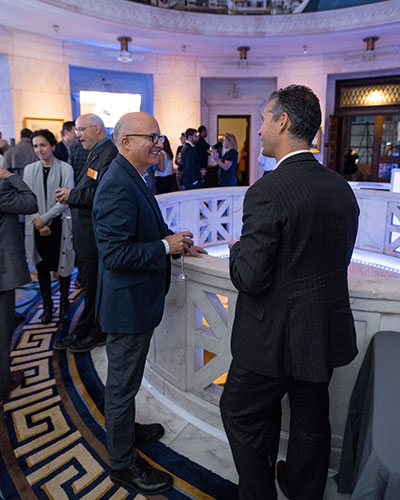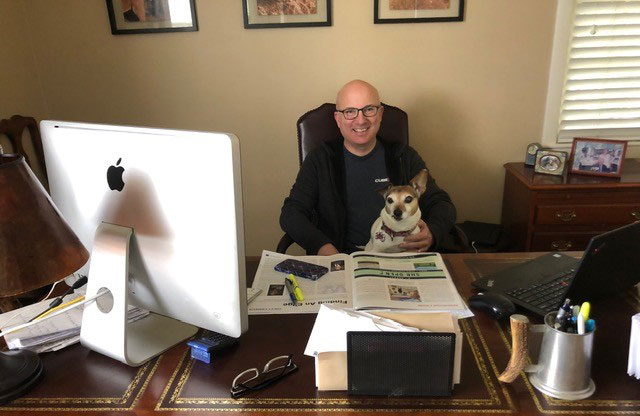 Bruce and his favorite colleague working from home in 2020
What is your favorite C3 project? The next one
What is your favorite C3 memory? (The good, the bad, and the ugly?)
Zip lining at Gunstock. 40 degrees/wind driven sleet (ugly)
Favorite quote?
"Why does everyone else have a better looking BD person than I do" .. Anonymous
What is something you are most proud of?
In April I celebrated 37 years of an amazing marriage to my high school sweetheart Nancy!
Can you tell us a little about a personal hobbies or activities you are working on or passionate about?
Wine, food, travel, sports, Christian volunteering with my wife